Get CG Holiday homes booked online
This is summer and obviously Children will be on a holiday spree. It's time to go for a long outing with family that rejuvenate our mind and body.  You might complain that stay in a good tourist spot is exorbitant.  That's true.  Even if you are ready pay the price demanded,  getting a decent lodging during summer is not a cakewalk.
But , Holiday homes and Touring Officers' Hostels, which are operated by CPWD/Urban development Ministry throughout India come in handy in this situation.
Online booking make things easy:
Earlier, manual booking was only available in these homes, which involves cumbersome procedure of sending a request over post.  This procedure was also not transparent and we may not be in a position to plan our travel properly as confirmation of reservation should also reach us by post.  But Government has simplified this process by making 100% online allotment through internet in 6 holiday homes and in certain Touring Officer's Hostels.
We have attempted here to compile the information regarding these holiday homes.  Also we have presented a simple  guide on online reservation in these places through the website of Ministry of Urban ministry .
These are the Holiday homes under Ministry of Urban development throughout India:
Holiday Home
No of Rooms
Location
Agra (Online booking only)
14
Holiday Home for the Central Government Employees,
Sikandra Sector 15, Near Income Tax Colony, Sikandra.
Amarkantak
10
Central Govt. Holiday Home, Amarkantak (MP)
Goa (Online booking only)
03
Holiday Home for the Central Governmen Employees, Bambolim,
Opposite Goa Medical College Complex, Panaji-Madgaon Road,
Goa
Kanyakumari (Partial online booking)
22
Holiday Home for Central Government Employees Kovalam
Road (near Light House), Kanyakumari
Mysore
12
Holiday Home, CPWD Office Campus, T.Narasipur Road,
Sidhartha Nagar,
Mysore-570011
Mussorrie (Online booking only)
05
Southwood Cottage in the ITBP campus (near library Chowk, Mall
Road, Next to Dove Cottage), Mussoorie.
Nainital (Online booking only)
13
Central Govt.
Employees Holiday Home,
Khurpatal (Nainital).
Ooty (Online booking only)
26
Holiday Home for
Central Government
Employees,
Good Shed Road,
Near Railway Station,
Udagamandalam,
Shimla (Online booking only)
109
Grand Hotel, The Mall,
Shimla-171001
Udaipur
2
—
Who is eligible to apply?
All working and retired Central Government employees and the employees working under the Government of NCT of Delhi, who are working in the offices, which have been specifically declared eligible for General Pool, are entitled for allotment of accommodation from General Pool.
Documents to be submitted for authenticity:
Signature of administrative authorities of department where the employee is working is necessary in the application sent by the employee for booking.  In the case of online reservation, application form generated by the system has to be signed by the administrative authorities before the same is sent by post.  In the case of retired government employees, forwarding of self attested copy of the PPO along with the application for booking is necessary
How to guide for making reservation online:
Before proceeding to online reservation install Java Virtual machine software if the same is not installed in your computer already. As this online reservation system runs in Java platform this software is required to be installed in your computer.  Also the conventional browsers such as Internet Explorer 6 and above supports this online reservation system well rather than Firefox or google chrome.
Java Virtual Machines software is available in department site of Ministry of Urban development.
Download Java Virtual Machine Software
This is the step by step work flow chart for online reservation:
Step I
Register your request for advance reservation by filling online application form found in the website www.estates.nic.in.
Step II
After pressing the SUBMIT Button, take a print of the application form generated by the computer system.  Copy of the applicant form can also be generated from the
button available in CHECK STATUS section.
Step III
Sign the application form.  Get it verified/forwarded from the Administrative Divn. of applicant's office (Retired Government employees should enclose SELF ATTESTED copy of the PPO/Pensioner ID. Card. Verification by office is not necessary).
Step IV
Annex Pay Order/Demand draft for the full amount of room charges. If Sending application to AD(Regions) New Delhi : DD/Pay Order to be drawn in the name of ASSISTANT DIRECTOR OF ESTATES (CASH), NEW DELHI (for booking of Holiday Homes other than Grand Hotel, Shimla).  If Sending application to AEM, Chennai : DD to be drawn in the name of ASSISTANT ESTATE MANAGER, CHENNAI (for booking of Holiday Homes other than Grand Hotel, Shimla).  For booking at Grand Hotel Shimla (From anywhere in country) :  DD to be drawn in the name of ASSISTANT ESTATE MANAGER, GRAND HOTEL SHIMLA.  Pl. write applicant's name, destination and stay dates on the backside of the Demand Draft/Pay order.
Step V
Despatch the HARD COPY of the verified application form [with Demand Draft/pay order for the full amount] to the concerned Allotting Authority.
Step VI
You can check your booking status online by quoting BOOKING REQUEST ID and ID CARD NO. If it shows status as ALLOTTED, take a print of the confirmation letter.  Get it attested from applicant's office. Deliver it at the reception while checking in.
These are screen shots of online reservation system.  What we could make out from the process flow of this system is that availability has to be checked prior to starting booking process and once the availability is ensured tariff for the rooms is to be ascertained and demand draft has to be taken prior to the start of the booking process.  This is because for completing the booking process, Demand Draft number and date is necessary.  Also,  other modes of payment such as direct debit, credit card payment etc are are yet to be enabled.
Update:(30-04-2010):
We had mentioned that demand draft for room charges has to be taken prior to start of booking process for the reasons that for completing the booking process, demand draft number and date is necessary.  However,  one of the gconnect members who has booked a room after this article is posted has informed that while making online reservation, the demand draft number and date fields could be skipped and yet system accepts the reservation.   He also mentioned that after reservation slip is generated by the system we could take a demand draft and  fill up reference number of the same in the relevant column of the reservation slip manually before sending the same alongwith demand draft.  We thank him for this valuable information.
Website of Ministry of Urban Development: Click Holiday home —>Apply online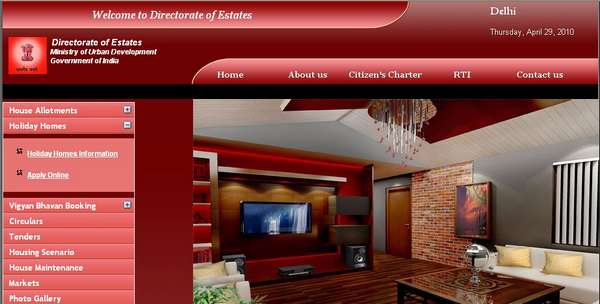 2. Alert about availability of Java Virtual Machine: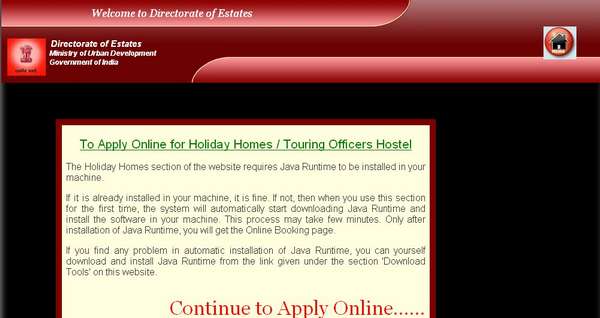 3. Options to check availability, Booking Status, and online booking.  Check the availability, tariff before making online booking.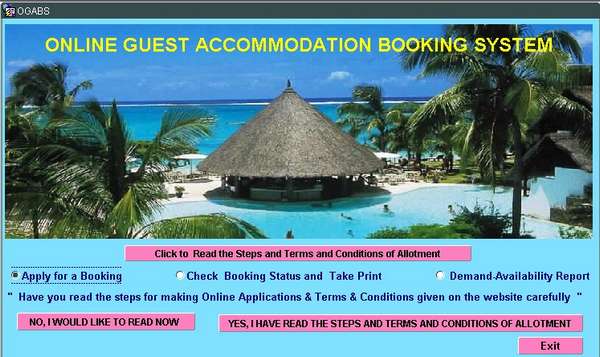 4. This is the screen for checking availability:

5. This is a sample availability report: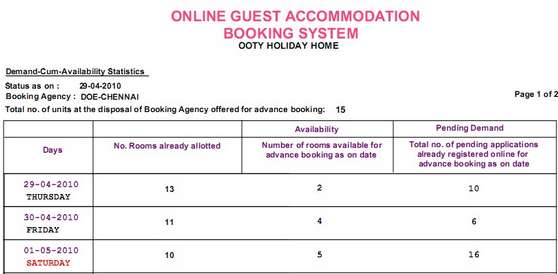 6.  This is the screen meant for online booking: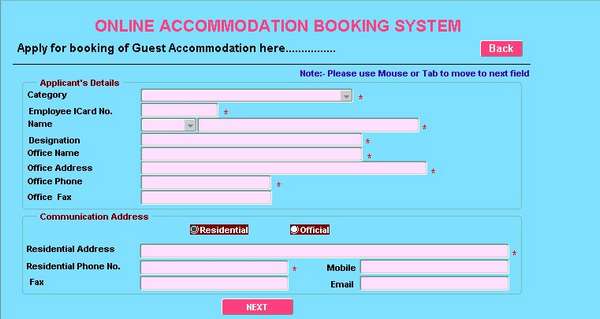 6.  Screen-2 for online booking: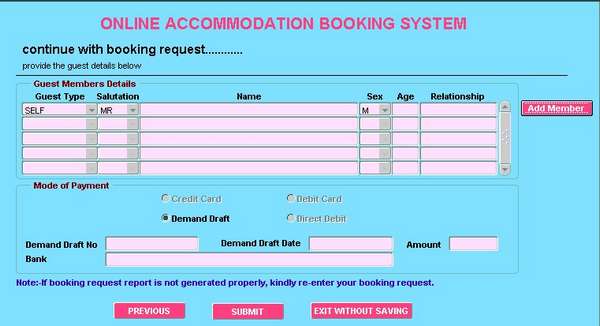 For making manual reservation download this application form
Click here to get complete details of these holiday homes and Touring Officer's hostel.
check here for other terms and conditions.
Go to Website for Central Government Holiday Homes Online Reservation