GConnect instant Notification in your browser and phone on latest articles
GConnect instant Notification in your browser and phone on latest articles in GConnect.in – This new feature provides an instant access to latest articles
If you have been following GConnect to get latest news relating to Central Government Employees, then its new instant notification feature in browser and also in Phone will be very ideal for you.
This new feature provides instant alert in the right bottom of your desktop / laptop, whenever a new article is published. The alert will be in the form of a snippet notification with a link to the new article. The alert would pop-up in chrome and Firefox browsers even if you are browsing any other website.
Interestingly, in addition to desktop or laptop, readers can get instant alert in the notification area of their android smart phone for all updates in GConnect, if subscription for instant notification is opted from the mobile browser.
How to subscribe to GConnect Instant Notification in web browser and phone ?
Subscribing for GConnect Instant Notification can be completed in three easy steps. Readers can also unsubscribe at any moment.
Step 1:
In Desktop / laptop
For instant notification in your desktop / laptop web browser, go to GConnect.in and click the Round button with a bell image, which would be available on the right side bottom of the browser near the system tray.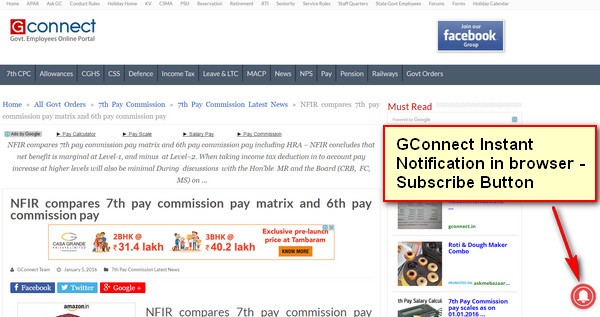 In Mobile Phone
To receive instant alert in your mobile phone, open GConnect website in your phone using chrome or Firefox mobile browser and click the floating Round button with a bell image, which would be available in the bottom of the screen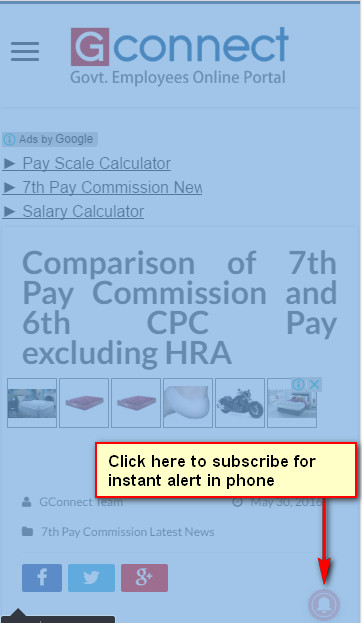 Step 2:
A pop-up dialogue box will be displayed now to seek your consent for sending the instant alert to your web browser / Phone notification area, for latest updates in GConnect. Click Continue to proceed with the subscription.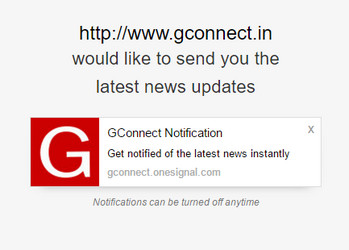 Step 3 : Now, another dialogue box will be displayed which is generated by your browser for confirming whether you accept for receiving instant alert from GConnect. Click allow in this dialogue box.

Readers can easily unsubscribe from receiving instant notification, by using the same Round button with bell image.
How to use GConnect Instant Notification?
Now you are ready to get the instant notification. On receipt of an instant notification in your browser, click the same to directly reach the new article in GConnect.
If you have opted to receive instant alert in your phone, go to notification area and touch the message received from GConnect to directly land to the new article in mobile browser.