EPFO to Give Interest on Inoperative PF Accounts from April 1
EPFO to Give Interest on Inoperative PF Accounts – The decision will benefit over nine crore such account holders having total deposit of around Rs 32,000 crore.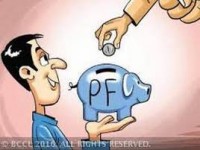 Retirement fund body EPFO on Tuesday decided to provide interest on inoperative accounts from April 1, a move which will benefit over nine crore such account-holders having total deposits of over Rs 32,000 crore.
The decision was taken by the Employees' Provident Fund Organisation's (EPFO) apex decision making body Central Board of Trustees' headed by Labour Minister Bandaru Dattatreya.
"Now, we have decided to credit interest in inoperative accounts. There will not be any inoperative accounts," Dattatreya told reporters after the CBT meeting in Delhi.
He also informed that interest on deposits in inoperative accounts will be credited from from April 1.
Inoperative accounts are those wherein the contribution has not been received for 36 months.
EPFO had stopped payment of interest to such accounts from April 1, 2011. The move was aimed at discouraging parking of funds with EPFO in these dormant accounts.
The decision will benefit over nine crore such account holders having total deposit of around Rs 32,000 crore.
When asked about a proposal on enhancing proportion of incremental investments of the EPFO in government securities (G-Sec) from 50 per cent to 65 per cent, Labour Secretary Shankar Aggarwal said, "It has already been decided by the Ministry of Finance."
The Secretary said that the limit of 50 percent was enhanced as they were getting good offers but unable to invest in such instruments as the limit had been exhuasted.
"If we get higher returns in G-Secs then we should be allowed to invest more in these instruments," he said further.
The Board also gave in-principle approval to restructuring of the EPFO as recommended by a sub-committee.
"We have taken decision regarding (cadre) restructuring of the EPFO. There will be a Career Advancement Scheme for over 20,000 employees of EPFO. They are waiting their due promotions for 19 years," Dattatreya said.
committee has been formed which will look into grievances of employees. "The implementation of the scheme will be started within one month and will go very fast. A small committee under the Central Provident Fund Commissioner will address all anomalies in a month's time," he said.
About the CBT's decision to provide 8.8 per cent rate of interest on PF deposits for current fiscal, the Labour Secretary said, "The decision taken last month at CBT's meeting at Chennai has been sent to Finance Ministry and their approval is awaited."
On the proposal to provide insurance cover to EPFO's subscribers for three years after cessation of employment, he said, "The proposal is deferred."
The proposal to introduce voluntary retention of EDLI membership to subscribers at reduced rate of contribution for three years after cessation of employment was also on agenda of the CBT meeting today.
At present, the EPFO subscribers get an insurance cover of up to Rs 3.6 lakh crore under the Employee?s Deposit Linked Insurance (EDLI) Scheme for which their employers contribute 0.5 per cent of basic wages as premium.
About the CBT's decision in September last year to increase maximum sum assured under the scheme from Rs 3.6 lakh to Rs 6 lakh, Aggarwal said, "All decision of the CBT are vetted by Law Ministry. We will see where it is (status) and it will be implemented."
The CBT had also decided in its meeting held in September last year, to abolish the condition of continuous employment of 12 months under the current employer for employees to be eligible for insurance benefit under the EDLI scheme.
On EPFO investments in various instruments, the Secretary said, "We had allowed to invest 5 percent in equity. Now out of remaining 95 percent, we can invest up to 65 percent in government securities. Thus share of private and public sector bonds will go down correspondingly."
"Labour Minister said that the Finance, Audit and Investment Committee of the EPFO will review the investments in the exchange traded funds (ETFs) in view of the sentiments expressed by the CBT members," All India Trade Union Congress Secretary D L Sachdev told.
He further said, "The review of EPFO's investments in ETFs was listed on the agenda of the CBT meeting today. The trustees' including all workers' representatives registered their protest against investments in stock markets."
An EPFO analysis revealed that the body earned a negative return of 9.54 percent on its Rs 5,920-crore investment in ETFs since August 2015.
Market value of investments of Rs 5,920 crore in the ETFs this fiscal was Rs 5,355 crore on February 29, 2016, as per an analysis of equity investment by EPFO.
Source: PTI – Zee News