Dr.Kalam, Great scientist, a wonderful President and above all an inspiring individual
Great scientist, a wonderful President and above all an inspiring individual – Prime Minister of India condoles on the demise of Dr.APJ Abdul Kalam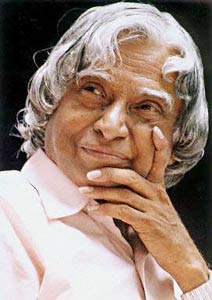 The Prime Minister Narendra Modi has condoled the passing way of the former President Dr.APJ Abdul Kalam.
In a statement, he said that Dr. Kalam had been a leading light who will always be remembered for his services to the country. In his condolence message the Prime Minister said," भारत के पूर्व राष्ट्रपति, और विशेष करके युवाओं के प्रिय श्रीमान अब्दुल कलाम जी के निधन के समाचार पूरे देश के लिए और विश्व के वैज्ञानिक आलम के लिए एक बहुत ही दुखद समाचार है। राष्ट्रपति के रूप में उनका कार्य, उनका जीवन, उनकी हर बात देश के लिए आज भी दिशादर्शक है। एक वैज्ञानिक के रूप में उन्होंने भारत को नयीं उंचाईयों पर पहुँचाया था। भारत को सशक्त बनाने में, वैज्ञानिक शक्ति को जोड़ने का उनका जीवन भर का प्रयास भारत की बहुत बड़ी पूँजी है। वे राष्ट्रपति थे तब भी और बाद में भी यही कहते थे कि मैं तो एक teacher हूँ, मैं एक professor हूँ। पढ़ाना..ये मेरी passion है। और आज जीवन का अंत काल भी विद्यार्थिओं के बीच, अपने प्रिय काम को करते-करते ही उन्होंने वो अंतिम क्षण भी बितायी।
सामान्य परिवार में जन्मे हुए तमिलनाडु में दूर-सुदूर रामेश्वरम से जीवन की यात्रा प्रारम्भ की और हिंदुस्तान के जन-जन से लेकर के विश्व के अन्दर भारत की प्रतिष्ठा को बढ़ाने में आपका बहुत बड़ा योगदान रहा।
व्यक्तिगत मेरे जीवन में एक उत्तम, वरिष्ठ मार्गदर्शक रहे थे। उनके साथ बहुत निकटता से काम करने का मुझे अवसर मिला था। मैंने व्यक्तिगत जीवन में तो एक उत्तम मार्गदर्शक को खोया है, देश ने अपने एक ऐसे सपूत को खोया है, जिसने भारत की सेवा की, भारत को सशक्त बनाने के लिए। जिसने अपनी पल-पल लगायी, भारत की युवा पीड़ी को सशक्त बनाने के लिए, सामर्थवान बनाने के लिए। ऐसे महापुरुष की विदाई, मैं नहीं मानता कि कोई भर पायेगा। देश ने बहुत कुछ आज गंवाया है।
मैं उस महान आत्मा के प्रति अपने श्रधा-सुमन अर्पित करता हूँ। देश आज शोक-मग्न है। उनका कार्य हमें देश को आगे बढ़ाने के लिए प्रेरणा देता रहेगा।
मैं फिर एक बार इस महापुरुष के जीवन को, उनके कार्य को, उनकी प्रेरणा को नमन करते हुए, देशवासियों को इस शोक-संतप्त अवस्था में, गहरे सदमे की इस अवस्था में, मेरे पास अधिक कुछ कहने के लिए शब्द नहीं बचे… ।"
"India mourns the loss of a great scientist, a wonderful President and above all an inspiring individual. Rest in peace Dr. APJ Abdul Kalam.
Dr. Kalam…my mind is filled with so many memories, so many interactions with him. Always marvelled at his intellect, learnt so much from him.
Dr. Kalam enjoyed being with people; people and youngsters adored him. He loved students and spent his final moments among them", the Prime Minister said.
Source: Press Information Bureau