Budget Date Decided much in Advance of Poll Schedule – Jaitley
Budget Date Decided much in Advance of Poll Schedule – Jaitley.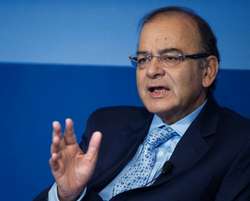 Finance Minister Arun Jaitley today said the date for presenting the Union Budget on February 1 was decided much in advance of the EC's announcement of Punjab polls three days later, dismissing Opposition allegation that the budget was scheduled keeping in view the state elections.
He said there was a practice to present the budget on February 28 but this year it would be presented on February 1.
Refuting the Opposition's allegation, Jaitley said the date for presenting the budget was decided much earlier, before the announcement of Punjab polls and it would be wrong to say the date was fixed keeping Punjab elections in view.
Opposition political parties  have voiced reservations against presenting the Budget just three days ahead of the Punjab polls as they feel the budget may be used to announce sops to influence voters.
Jaitley also played down the trouble people faced due to the sudden move by the Union government on November 8 to demonetise high-value currency notes, saying gone were the days when people were seen standing in long queues outside banks.
"Now adequate new currency is available with banks as well as in the market," Jaitley said.
However, a senior official from the finance ministry told in anonymous, "when the government hesitates to announce the allowances for the central government employees citing the model code of conduct setup by the election commission, how can they proceed with the budget?,,, moreover the committee was ready with the report, but still they were given extra time, without they asking for any time extension".
Source: PTI feeds