AirAsia flight QZ8501 carrying 162 from Indonesia to Singapore goes missing in bad weather
An AirAsia plane with 162 people on board lost contact with ground control on Sunday while flying over the Java Sea after taking off from Indonesia's Surabaya for Singapore. The two countries immediately launched search and rescue operations but there was no word on the plane's whereabouts more than seven hours after it went missing.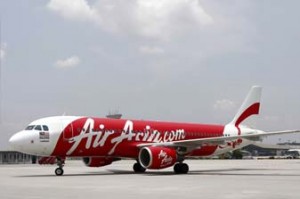 AirAsia, Malaysia's low-cost carrier with presence in several Southeast Asian countries, said in a statement that the missing Airbus A320-200 was on the submitted flight plan route. However, it had requested deviation due to bad weather, before communication with the aircraft was lost while it was still under the control of the Indonesian Air Traffic Control.
"We don't dare to pressume what has happened exceped that it has lost contact." Djoko Murjatmodjo, Indonesia's acting director general of transportation, told reporters. He said the last contact between pilot and the air traffic control was at 6.13am (2313 GMT Saturday).
He said there was no distress signal from Flight QZ8501.
The contact was lost about 42 minutes after the single-aisle jetliner took off from Indonesia's Surabaya airport, Hadi Mustofa, an official of the transportation ministry, told Indonesia's MetroTV. It was about an hour before it was scheduled to land in Singapore at 0030GMT.
Flight QZ8501 lost communication with Jakarta's air traffic control at 7:24am Singapore time (2324 GMT Saturday), about an hour before it was scheduled to land in Singapore, the Singapore Civil Aviation Authority said in a statement.
The plane had two pilots, five cabin crew and 155 passengers, including 16 children and one infant, AirAsia Indonesia said in its statement. Indonesian officials had earlier said there were 161 people on board, presumably because the infant was not counted.
The AirAsia statement said there were six foreigners — three South Koreans and one each from Singapore, Malaysia and France. The rest were Indonesians.
Read the full story @ hindustantimes.com