Adventure sports for Central Govt Employees in Jan and Feb 2016
Central Civil Services and Sports Board, DOPT conducts 5 days Adventure sports for Central Govt Employees in Jan and Feb 2016
Central Civil Services Cultural & Sports Board has issued a circular on Adventure sports for Central Govt Employees in Jan and Feb 2016.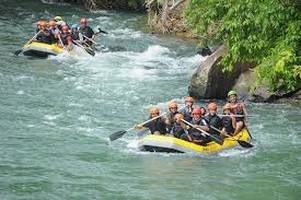 Central Civil Services Cultural & Sports Board

Department  of Personnel and Training

Ministry  of Personnel, Public Grievances and  Pensions

Government of India

Phone:     011  -24624204
Fax  :         011-24646961

(Registration   No.2621)

361,  B-Wing,   3rd Floor
Lok  Nayak  Bhawan

New  Delhi-  110003

No.125/1/2015-16/CCSCSB

                                                                       Date: 18.01.2016

CIRCULAR

Sub:   Scheme  for   Promotion   of  Adventure   Sports   & Similar Activities  amongst  Central Government Employees- Programmes   to   be   organized   by  Garhwal   Mandal  Vikas Nigam   Limited,  Limited.

Please  refer  to  the  Department     of  Personnel    & Training     Office   Memorandum   of even  number dated  04. 12.2015   regarding   Scheme   for  Promotion   of Adventure   Sports   & Similar    Activities   amongst Central    Government   Employees (copy enclosed).

2. The Garhwal    Mandal   Vikas  Nigam Limited   (GMVNL) has offered the following programme for
Central    Government  Employees eligible under the Scheme:

Name  of Programme    

Moderate  Trekking, River Rafting, Jungle Safari, etc. (Rishikesh, Haridwar, Neelkanth, Rajaji National Park).

Duration  :  5  Days    4 Nights

Programme  dates*

(a)27.01.2016 to  31.01.2016

(b) 05.02.2016 to 09.02.2016

(c) 10.02.2016 to 14.02.2016

Batch*  :  Minimum   20 persons

Cost* : Rs.17550/-   per  person  (reimbursement will  be regulated as per para 7.3 of the  Scheme.)

Contact Person For further details

Shri  Rajpal Singh

P.R.O.   GMVNL(stationed at New Delhi).

9312633180, 011-23350481, 011-23326620, 011-23327713 (Fax)

Services  : Transportation by 2 x2  non AC coach/  Tempo Traveller, attached bath accommodation in TRH/tent, 08  kgs portage of  personal belongings non  veg./veg   meals,   first   aid, Rs. One lakh Personal Insurance high risk Policy and services  of mountaineering  trained tour  escorts & experienced camp followers.

Terms and conditions of the programme

To be  provided   by  GMVNL

*Terms    and  conditions   of the  Scheme   and  Garhwal   Mandal   Vikas  Nigam  Limited    are  applicable

3.  The   interested and eligible Central  Government  Employees    may  contact   GMVNL and  forward application  in  the attached  format   after   following  the procedure elaborated in paragraph   8 of the Scheme.  The  cost of the  programme   has to be paid directly to Garhwal Mandal Vikas Nigam  Limited as per their instructions and re-imbursement, as admissible,·will be   made by CCSCSB  on successfully completion of the  programme.

(Abhay Jain)

Secretary  (CCSCSB)
Download DoPT Circular No.125/1/2015-16/CCSCSB dated 18.01.2016
Scheme for promotion of Adventure Sports  & Similar activities amongst Central Government Employees
Application Form
1. Name of Participant_______________             Paste recent
2.  Father's  Name__________________             Passport  size
photo
3. Date of Birth——————-
4. Address    _______________         .
___________________________________
____________________________________
5. Telephone/Mobile  No.______________
6. Ministry/Department  ________________
7.  Next of kin to be informed in case of  emergency _________
I, _______________ understand that  the Programme may Involve serious risk to me. I am undertaking  the programme  at my own volition, cost, risk and consequences.
I hereby undertake that I will not held responsible Central Civil Services Cultural &  Sports Board/ Government  of India for any untoward incident/mis-happening.
Date:                                                          (Signature of participant)
Place:                         Full name in BLOCKLETTERS________
Ministry/Department _________________
This  is to  certify  that  the  applicant  is a   Central  Government Employee
working  in the main Ministry/Department and  information given above is correct. The applicant is medically fit for the adventure activities opted by him/her.
(Welfare  Officer)