UPSC IES Admit Card 2017 / ESE Admit Card 2017 Available – Download Now
UPSC IES Admit Card 2017 / ESE Admit Card 2017 Available – Download Now
UPSC IES Admit Card 2017 for the Main examination has been released on April 18, 2017. Qualifiers of preliminary examination can download IES admit card from upsc.gov.in, the official website of the exam. UPSC IES 2017 Main will be held on May 14, 2017. The candidates will have to carry the admit card on the exam day or will not be allowed to write the exam. With the ESE admit card 2017 candidates also have to take one photo id proof. Check details on UPSE IES Admit Card 2017, ids to be carried with it, the process of downloading it and more details from this page.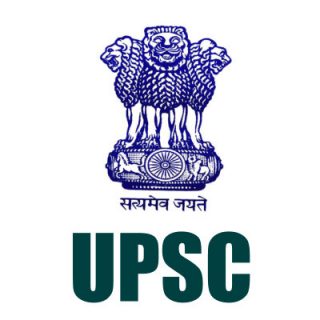 To download the admit card of IES 2017, the candidates will need Registration Number / Roll Number and Date of Birth. The procedure to download Engineering Services Examination 2017 admit card is simple and as below:
Candidates can access the window by either submitting the Registration ID or The Roll Number.
Which every Number candidates will enter, the next step will be to enter Date of Birth.
Consequent to the steps above, the IES admit card 2017 will be displayed.
Candidates will have to download it and secure a copy of it on an A-4 sheet.
Download Here: ESE Admit Card 2017

To download Engineering Services (Main) Examination 2017 hall ticket – Click Here
Engineering Services Exam  Admit Card for Main Exam 2017
The candidates are supposed to download the admit card for the chosen specialization only. The specialization and the Category corresponding to it are as given below:
UPSC IES Specialization
UPSC IES Categories
Civil Engineering (CE)
Category I
Mechanical Engineering (ME)
Category II
Electrical Engineering (EE)
Category III
 Electronics and Telecommunication
Engineering (ECE)
Category IV
Items to be Carried with UPSC IES Admit Card
The candidates should note that if the IES admit card does not contain a clear photograph then they need to bring a Photo ID Proof and Two Passport Size Photographs. These are to be brought individually for each session.
Valid Photo id proof which the candidates may carry to the exam hall with the e-hall ticket of IES Main 2017 are:
Aadhaar Card
Driving Licence
Passport
Voter I Card, etc
Details Mentioned in the IES Admit Card 2017
Apart from the center address the IES 2017 admit card will also contain the following details:
Name
Exam Date
Date of Birth
Roll Number
Registration Number
Timing
Category
Candidate's Photograph
Common Instructions
Error or Discrepancy in Image:
If any of the information mentioned in the admit card is incorrect then the candidates must inform Union Public Service Commission (UPSC) about it, until May 04, 2017. The Commission can be contacted at the below mentioned address:
Address: UNION PUBLIC SERVICE COMMISSION
Dholpur House,
Shahjahan Road, New Delhi – 110069
Facilitation Counter (Ph. No): 011-23098543 / 23385271 / 23381125 / 23098591
E-mail: usengg-upsc@nic.in
Note: Candidates must mention their Name, Roll Number, Registration ID, Exam Name, and Year of the Exam in every correspondence with the Commission.
Significance of IES Admit Card 2017
The significance of ESE admit card 2017 are:
Admission Ticket – Candidates must have IES Admit Card 2017 on the day of the exam. It is a pre-requisite to be allowed to attend the exam. Anyone who is not in possession of the hall ticket will not be allowed to enter the examination hall.
Indicates Center Details – The exam center of UPSC IES Main 2017 allocated to the candidates will be announced through the admit card. It will contain the center address, timing and much more.
Salient Features and Important Dates for IES 2017 Admit Card
Below are some salient features of UPSE IES and the Admit Card, which the candidates should know:
Exam Name: IES (Indian Engineering Services)/ESE (Engineering Services Examination)
Admit Card Released for: State II, i..e IES Main 2017
Released for: Qualifiers of Preliminary Exam
Mode to Download: Online only
Crucial Dates: As given in the table below
| Important event related to IES Admit Card | IES Admit Card Dates |
| --- | --- |
| Last date to apply for UPSC Engineering Services Examination 2017 | October 26, 2016 |
| Availability of IES Preliminary Exam Admit Card | December 9, 2016 |
| UPSC ESE / IES Preliminary Exam (Stage I) 2017 | January 8, 2017 |
| Availability of IES Main Exam Admit Card | April 18, 2017 |
| Last date to inform UPSC about error in the admit card | May 04, 2017 |
| UPSC ESE / IES Main Exam (Stage II) 2017 | May 14, 2017 |
Important Points Related to UPSC ESE Admit Card 2017
The below mentioned details might seem irrelevant but can affect the candidature immensely. Hence, the candidates must take keep these factors in mind.
IES admit card 2017 will not be issued through post or any similar medium. Candidates must download it and procedure a hard copy of it.
The admit card will not be re-issued. It is candidates responsibility to secure it properly.
Attempt to gain entry on the basis of fake admit card will nullify the candidature.
FAQs on UPSC IES Admit Card 2017
Below we have discussed some common queries, which candidates face every year.
Q. My picture in the admit card of IES is clear, do I still need to carry the ID proof?
A. It is advised that candidates do carry it as there is no harm in doing so. If required, it can be shown. If not required then simply keep it to the invigilator to safeguard and after the exam take it back.
Q. I forgot my Registration Number. What should I do now?
A. Candidates need not worry, in such case, they just need to click on 'Forgot RID? – Click Here' link.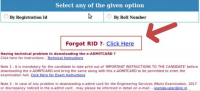 Next, the candidates will have to submit Name, Father's Name, Mother's Name, and Date of Birth to retrieve the Registration ID.
Q. What to do if I am unable to get the UPSC ESE 2017 Admit Card?
A. If you do not receive e-admit card or any other communication regarding candidature for the examination two week before the commencement of the examination, you should at once contact the Commission. Information in this regard can also be obtained from the Facilitation Counter located in the Commission's Office either in person.
You can also contact over phone Nos. 011‐23381125 /011‐23385271 /011‐23098543.
Note: In case no communication is received in the Commission's Office from the candidate regarding non-receipt of UPSC admit card at least one week before the examination, candidate will be solely responsible for non receipt of the e-Admission Certificate.
Q. While downloading the IES admit card 2017 the session time expired. What should do now?
A. On expiry of session time, the below given window will be displayed. The candidates just simply need to click on "E-Admit Card Home"

After this, the candidates will be direct to the admit card downloading window.
For more admit cards – click here