Details of Bank Strike during last three years
Eighteen strikes have been observed by Unions/Associations in Public Sector Banks during the last three years and the current year – Minister's reply in Parliament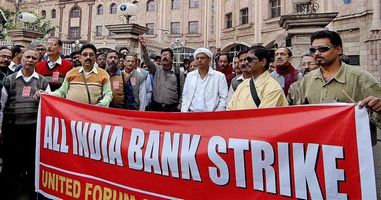 GOVERNMENT OF INDIA

MINISTRY OF FINANCE

LOK SABHA

UNSTARRED QUESTION NO: 2526

ANSWERED ON: 11.03.2016

Bank Strikes

2526 : SUKENDER REDDY GUTHA

QUESTION

Will the Minister of FINANCE be pleased to state:-

(a) the details of banks' strikes called during the last three years and the current year, bank-wise;

(b) the demands of the banks' unions/associations and their impact on banking sector along with the estimated loss suffered by the Government from such strikes during the above period;

(c) whether the Government is aware of violation of the bilateral settlement by five Associate Banks of State Bank of India (SBI) and if so, the details thereof; and

(d) the steps being taken by the Government to avoid recurrence of such strikes in future?

ANSWER

The Minister of State in the Ministry of Finance

(Shri Jayant Sinha)

(a) & (b): Total strikes observed by Unions/Associations in Public Sector Banks during the last three years and the current year are eighteen (18). The demands of bank's unions/associations mostly relate to immediate wage settlement, stop outsourcing of bank jobs, stop banking sector reforms, improvement in pension schemes, provide compassionate appointments in banks, etc. The estimated loss suffered from such strikes is not quantified.

(c): The settlements arrived at between Unions of the Workmen employees and Indian Banks' Association (IBA) on behalf of member banks are bound on all the parties to the Settlements as per the Industrial Disputes Act, 1947. As such, all member banks including Associate Banks of SBI, parties of Settlements are to implement the said settlements without violating the agreed terms and conditions of the settlement.

(d): Conciliation meetings were held with the representatives of the Unions/Association at the office of Chief Labour Commissioner to avert the strike.