GConnect Discussion Board-How to register and post message
As you may have noticed, GConnect Discussion Board (forums) has been given a new look. We hope that you find the navigation more intuitive and the overall experience more enjoyable.
You may aware, no registration is necessary to view the discussions. However, for participating in the discussions you may have to register with GConnect.
For whom who are new to GConnect this is a tutorial about Registration, New thread and reply to existing threads.
How to Register in GConnect Discussion Board:

Go to GConnect Discussion Board and click Register button on the right top.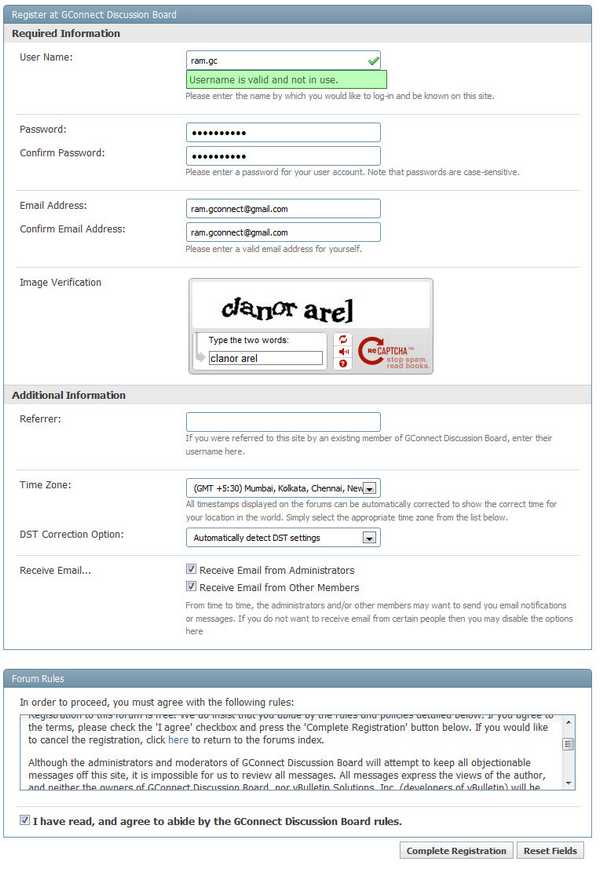 This is the registration window. Provide user name and password of your choice and also your email address. Note down user name, and password provided by you for registration. In the case of lost user name and password, GConnect may require you to provide your email address to reset your profile. So please note down the email address that you provided for registration.


After your registration is successful, you would receive this information window. As mentioned, go to your email inbox and check whether GConnect has sent you a mail for confirming the email address provided by you is correct.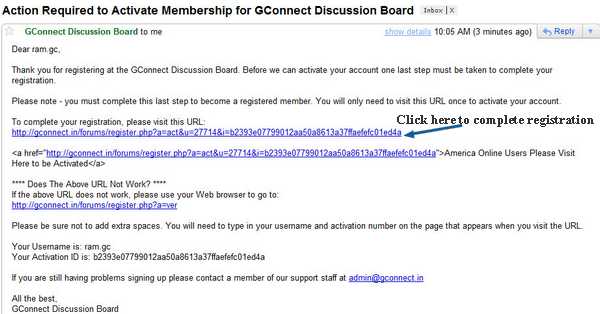 Open the mail and click the link pointed out above to confirm your registration.

After the email confirmation is successful the information window will appear. As mentioned in the information window you may have to wait till GConnect administrator moderate your registration.



After your registration is approved by GConnect you will receive another email such as the one illustrated above. You will also be intimated the user name you have use to login to GConnect Discussion Board.
Please keep this mail intact in your inbox to check if you forgot your user name later. Password details will not be provided for security. It is the same one that you provided while registering with GConnect Discussion Board
How to post Message in GConnect Discussion Board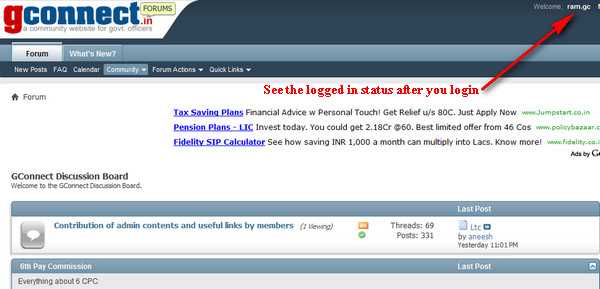 Enter your User Name and password and click Login button as mentioned above. After you logged in you can see the welcome message on the right top of the window.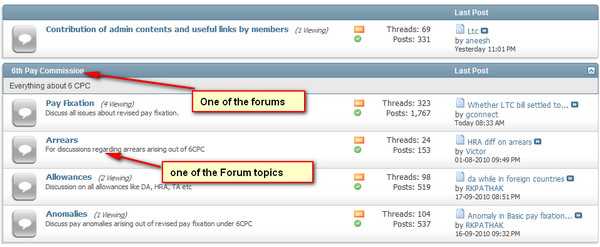 GConnect Discussion Board basically consists of various forums on different subjects. Each forum will consist of many topics. For example, Discussion Board has a forum called "6th Pay Commission" that in turn consists of many forum topics such as "pay fixation", "arrears", "Allowances" and so on.



The above screen shot is showing the threads that are already posted by members. Threads are nothing but a query or your views about something that fits into one of the topics of any of the forums we have.
For example, you want to discuss something about 6CPC arrears. Then you have to choose the forum "6th Pay Commission" first and then click the Forum Topic "arrears". If you want to make a new query or share a fresh thought about arrears click the "Post New Thread" button. Or if you intend to have a look at the existing threads click one of them. Then you will find all the discussions in the existing thread that you entered into. Participate in the discussions by clicking the button "Reply to Thread"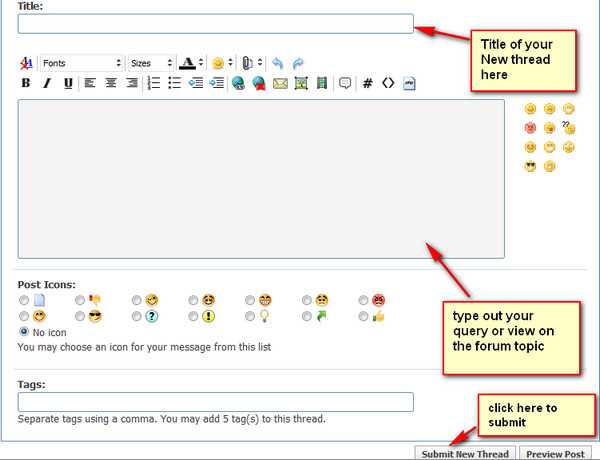 The above above picture is the screen shot of the text editor window that will appear after you clicked the "Post New Thread button" to create a fresh thread. Enter the title of your choice and in the body portion type out your message. Submit using "Submit New Thread" button to publish your writing in GConnect Discussion Board. Once a new thread is created by you it will be available under the relevant forum topic.
As said earlier, when you click the "Reply to thread" button, the same text editor window would appear in which you have to type out the reply/discussions for the existing thread.
Click here for more details on Registration and other related procedures