JEE MAIN 2016 Answer Key | Paper Solutions | video solutions
Joint Entrance Examination JEE MAIN 2016 Answer Key | IIT JEE Main Paper Solutions |  video solutions for offline and online exams – Check answers here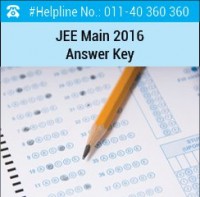 The Central Board of Secondary Education (CBSE) is conducting the Joint Entrance Examination (JEE) Main examination on April 3,  April 9 and April 10, 2016. Around 2 lakh candidates applied for this examination. JEE Main 2016 Answer Key will be released on 18th April in the official website http://jeemain.nic.in/. Before that tentative JEE Main paper solution / JEE Main 2016 Video Solutions will be released by leading coaching centres. All Candidates who have appeared for this entrance examination can check JEE Main answer key 2016 here as soon as the examination is over.
Candidates can download JEE Main 2016 Official Answer Keys along with the question papers provided by various coaching centres as soon as these are released :
JEE Main 2016 Video Solutions
JEE (Main) Code-E (English) – View
JEE (Main) Code-E (Hindi) – View
JEE (Main) Code-F (English) – View
JEE (Main) Code-F (Hindi) – View
JEE (Main) Code-G (English) – View
JEE (Main) Code-H (English) – View
JEE (Main) Code-H (Hindi) = View
JEE Main Rank Predictor – Click here 
IIT JEE Main 2016 Important dates:JEE Main 2016 Official Answer Key : The answer keys and images of response sheets (OMR sheets) of Pen & Paper Based examination and Computer based examination will be displayed on the website www.jeemain.nic.in during 18-22 April 2016. The candidates, who are not satisfied with the captured response, may challenge by filling online application form and paying a sum of Rs.1000/- per question The challenge of answer keys will also be accepted online only through the link available on the website www.jeemain.nic.in up to 5.00 PM on 22/04/2016 on payment of Rs.1000/- per question. The fee can be paid by credit/debit card or e-challan. The fee once paid is non-refundable. The JAB's/CBSE's decision on the challenges shall be final and no further communication will be entertained.
Display of Answer Key and OMR sheets
April 18, 2016

to

April 22, 2016

Acceptance of challenge of Answer Keys
4th week of April, 2016
JEE Main 2016 Results (Scores)
April 27, 2016
Declaration of All India Ranks
On or before June 30, 2016
Availability of JEE Main 2016 Rank Card
After declaration of AIRs
JEE Main Previous Year & Expected Cutoff Marks 2016:
JEE Main 2015 Cutoff Maks:
General: 105
OBC: 70
SC: 50
ST: 44
JEE Main 2014 Cutoff Marks:
General: 115
OBC: 74
SC: 53
ST: 47
The cutoff marks for 2016 vary category wise. We will update the cutoff marks here.
About JEE MAIN
Admission criteria to Undergraduate Engineering Programs at NITs, IIITs, other centrally funded Technical Institutions, Institutions funded by several participating State Governments, and several other Institutions shall include the performance in the Joint Entrance Examination, JEE (Main). For admission to NITs, Centrally Funded Technical Institutions (CFTIs) like IIITs etc. and other participating Institutions, the merit/rank list shall be prepared based on 40% weightage to school Boards marks in class 12th or equivalent examination and 60% weightage to JEE(Main). The weightage to school Board/Equivalent examination marks shall be considered only after normalization.
The States of Gujarat, Madhya Pradesh, Haryana, Uttrakhand, Nagaland & Odisha have joined JEE (Main) system. Therefore, the candidates seeking admission to the institutions in these states, which were earlier admitting based on their State level examination, are also advised to fill in the JEE (Main) -2016 application form online.
The JEE (Main) will also be an eligibility test for the JEE (Advanced), which the candidate has to take if he/she is aspiring for admission to the undergraduate programmes offered by the IITs/ISM Dhanbad.
SCHEDULE OF EXAMINATION
A. Offline examination (Pen and Paper Based Examination) for Paper 1 (B. E. /B. Tech.) and Paper 2 (B. Arch./B. Planning.)
| Date of Examination | Paper | Subjects | Timings | Duration |
| --- | --- | --- | --- | --- |
| 03.04.2016 | Paper 1 (B.E./ B. Tech.) | Physics, Chemistry & Mathematics | 0930-1230 Hours(IST) | 3 Hours |
| 03.04.2016 | Paper 2 (B. Arch. / B. Planning.) | Mathematics – Part I Aptitude Test – Part II & Drawing Test – Part III | 1400-1700 Hours(IST) | 3 Hours |
B. Online examination (Computer Based Examination) for Paper 1 (B. E./B. Tech.) Only
Date of Examination
Paper
Subjects
Timings
Duration
09/04/2016 (Saturday) &

10/04/2016 (Sunday)

Paper 1 (B. E./B. Tech.)
Physics,

Chemistry &

Mathematics

1st shift 0930-1230 Hours (IST)

2nd shift (*) 1400-1700 Hours (IST)

*If required

3 Hours
Key words : JEE Main 2016 Solutions | JEE Main 2016 Answer Key | JEE Main Answer Key | JEE Main Solutions 2016 | JEE Main Answer Key 2016 | JEE Main 2016 Cut off | JEE Main Cut Off | JEE Main 2016 Marks Predictor | JEE Main 2016 Online Answer Key Checker | JEE Main 2016 Rank Predictor | JEE Main 2016 Video Solutions | ANSWER KEY JEE (MAIN) – 2016 OFFLINE EXAMINATION | ANSWER KEY JEE (MAIN) – 2016 OFFLINE EXAMINATION
Best wishes : www.gconnect.in