7th Pay Commission – The Painful Anxiety Still Continues for Autonomous bodies and Boards
7th Pay Commission – The Painful Anxiety Still Continues for Autonomous bodies and Boards.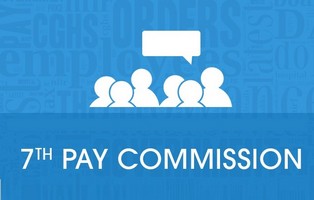 One would indeed find it shocking that central government, so far, has not extended the salary hikes and other benefits announced under the 7th Pay Commission to the personnel of autonomous bodies and Boards falling under different central ministries.
As per the blog of Confederation of Central Government Employees and Workers, "During the previous wage revisions, they have been allowed to enjoy the benefits within one month of release of the Government Notification on Revised Pay Rules. Employees and Pensioners of more than 600 Autonomous bodies and Boards etc. are eagerly waiting for the last more than two months, for revised pay structure implementation in their respective institutions".
Since most of the autonomous bodies and Boards, and ministries under whose ambit their fall, do not have much fund to spare for payment of pay hike, they have to depend on the Finance Ministry for the financial support for meeting the financial burden of salary hike.
Confederation of Central Government Employees and workers has already taken up their case with the government, but till this date the Finance Ministry has not issued orders extending the 7th pay commission benefit to employees of Autonomous bodies and Board. The Confederation has urged upon the Central Government to expedite action in this regard and to end the uncertainty and anxiety among a large section of employees and pensioners.
Last time the Revised Pay Rules was issued on 30.08.2008 and orders extending the benefit to similarly placed employees of Autonomous bodies was issued on 30.09.2008. This time even though the Revised Pay Rules are issued on 25.07.2016, till this day i.e. even after a lapse of more than one month orders regarding Autonomous bodies is not issued.
Further it is reported that the employees of working at Central Food Laboratory, Kolkata (Health and Family Welfare Department, Government of India) who are on deemed deputation has not been paid the Revised salary for the month of August 2016 in terms of CCS (RP) Rules 2016 by the Director, Central Food Laboratory. Director, CFL has issued orders to draw the pay on the basis of pre-revised pay even in respect of those Central Government employees working at CFL who are on deemed deputation.
He has equated employees of the Autonomous organizations with the employees on deemed deputation. Above action of the Director, CFL, Kolkata appears to be not in conformity with the Para- 7 of OM No. 1-5/2016-IC dated 28.07.2016 in letter and spirit.
Source: Zeenews