PPO revision process and CPAO's initiatives
Revised Pension Payment Order (PPO) will be essential especially in the cases of enhanced pension based on age of the Pensioners and Revision of Pension/family Pension required on account of pension after 6CPC fixation is lesser than the minimum pension guaranteed based on Pre-Revised Pay Scale of retired / deceased employees.
For more details Read the following previous article published in GConnect, on Revision of Pension based on pre-revised Pay scale of retired / deceased employee
Click here to read Revised Pension for Pre-2006 Pensioners and Family Pensioners
Since disbursement of Central pension is handled by Banks, any upward revision in basic pension for which pensioner is entitled can be allowed by banks only after the receipt of revised PPO by banks from CPAO.
As far as Central Civil Services (CCS) Pension is concerned, revision of Pension Payment Order will have to be initiated at the level of PAO Office through which the retired / deceased employee was drawing pay. Once, pension revision requirement for a PPO is comunicated to CPAO, Delhi by the concerned PAO, CPAO, Delhi will revise the the Pension Payment Order (PPO) and communicate the same to Link Branch (Nodal branch nominated for revision of Pension for pensioners attached all branhes in particular Zone). Then the Link Branch of the bank will re-fix the pension based on revised PPO received from CPAO and communicate the same to branch in which the pensioner is having account and receiving the pension. So, if a pensioner finds that he/she is entitled for upward revision of basic pension she/he will have to communicate to PAO Office through which the retired/deceased employee received the last pay.
The following diagram explains the process of Revision of PPO: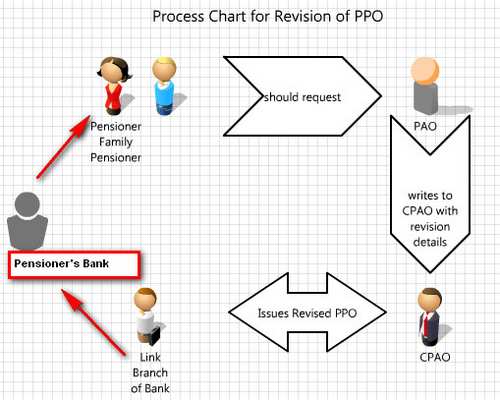 Initiatives of CPAO:
CPAO's initiative on providing an online platform for getting details of Revision of PPO has to be really appreciated. Every pensioner / family pensioner who is receiving CCS Pension can verify his PPO details online. If any revision of PPO is made, the details of the same are also given. This transparent form of work on revision of PPO provides a clarity to the pensioner and he/she can approach the office in which the revision of PPO is pending.
The following is the screenshot of Pensioner's portion of CPAO's website. The links for various queries that Pensioner can make online have been marked for clarity. Click here to to go to CPAO's website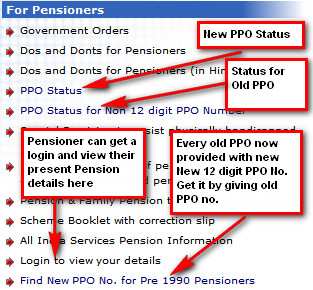 1. PPO Status
You can easily find out the present status of your PPO

The details of revision of PPO will be given as follows, so that pensioner can approach either PAO or CPAO through mail if revision of PPO is pending.

2. Get New PPO Number by providing Old PPO Number:

3. Pensioner's Login for details of PPO: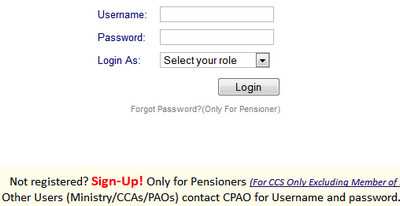 Pensioner can get a login and password here to view the PPO details.
In case Representation to made to CPAO through Email and Toll Free Number: (All representations require New PPO Number):
Email id: [email protected]
Toll free Number: 1800-11-77-88
We find CPAO office is responding to pensioner's grievences immediately.