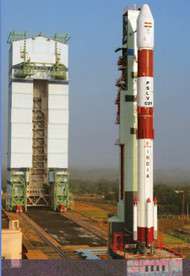 With India's Successful completion of 100th Space mission on 9th September 2012, some of the great achievements of ISRO in Indian Space mission require special mention here.
Special Achievements of India in Space Missions
1. The launch of PSLV C-21 on 9th September 2012, is commercial mission and it has recovered the cost of the Rocket.

2. India has successfully launched satellites of other countries 27 times exlcuding the mission of PSLV C-21 on 9th September 2012 which carred two satellites, Spot-6," the latest generation earth imaging remote sensing satellite built by France and Japanese micro-satellite "Proiteres,"

3. Apart from already achieving the status of most reliable satellite career, with the operation of 11 remote sensing/earth observation satellites orbiting in the space, India is a world leader in the remote sensing data market.

4. ISRO had decided to set up a Multi Object Tracking Radar (MOTR) to track space debris. Incidentially, there was a two-minute delay in the rocket's lift off in PSLV C-21 mission to avoid possible space debris impact, which ISRO predicted on monitoring.
Slide show  on PSLV-C21 Space Mission Facts:
[issuu width=420 height=297 embedBackground=%23000000 backgroundColor=%23222222 documentId=120910034828-95c3e6a4e74a4cd2877c3581af8d3c7c name=gconnect-pslv-space-mission username=ramgconnect tag=pslv unit=px v=2]