Narayanan Krishnan – Hero of India
What would be the reaction when we see human excretion. Most of us would turn our face and close our nostrils. We feel disgusting about the wastes of human body, and it is a very ordinary reaction of a normal human being. In fact, we don't like to discuss such topics.
Is it not in a similar way we react to the people who are mentally distorted and living a destitute life in the roadsides? Most of us would never have thought even once as to how they survive in those so pathetic and harsh conditions. It is again not a matter of botheration for anyone as these people with worst psychiatric illness are not considered to be a part of a cultured and civilized human society. They are ignored, uncared for and at the very least taken into account for any purpose.
It is now left to your imagination as what you would do when you see a man who is mentally retarded eating his own excreta. But this very scene has changed a young man with promising future forever. He is Narayanan Krishnan whose mission in life is to feed and take care of those people who cannot take care of them. His is a life of real inspiration and admiration.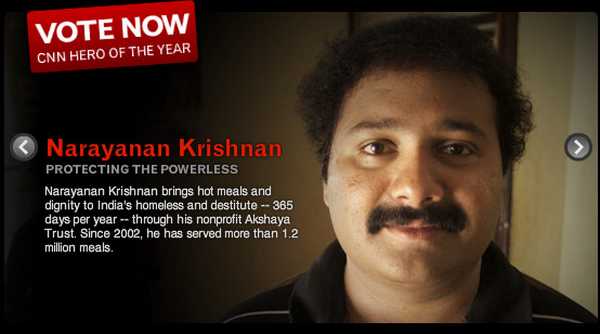 In the year 2002, Narayanan Krishnan was an award-winning chef in a luxurious hotel which caters the need of ultra-rich when he got an offer to work in Switzerland. He visited his home before his journey abroad. It literally shook him when he saw a very old man who was eating his waste. The very sight of the old man in such a deplorable situation made him drop the plan of going to Switzerland.
Narayanan Krishnan started feeding the old man he saw. He made a resolution to do the same not only to that old man but to all who were like him. As usual, it must have been a shock for his parents and relatives to see him do this without bothering about his own life. But, Narayanan Krishnan never turned back. He began to cook foods himself, went in search of destitute people and feed them. As if this is not enough, he is also barbering them. He has been doing these great services non-stop for 9 years.
Narayanan Krishnan runs a trust called 'Akshaya' . He travels around 200 Kilometres a day and feeds around 125 hapless persons not only in morning but also in the afternoon and night. He lives without much comfort in the small kitchen where he prepares food for these people. The funding his trust gets is not enough to cover his costs and hence he spends money he gets from the rent of his ancestral house. He has served more than 12 Lakh meals till now. In a world which is full of commercialisation and exploitation, where most of the people are ready to do any barbaric things to get money, Narayanan Krishnan is a person of unimaginable exception.
Now, Narayanan Krishnan is one among the 10 Heroes short-listed to CNN Hero of the Year 2010. It is not that services of all the other Heroes short-listed are less than that of Narayan Krishnan's. Click here to know about the other personalities those who have been recommended for CNN Hero of the Year contest 2010.
We should not compare 'Oranges' with 'Apples'. All the 10 Heroes short-listed are great in their own respects. But it is pride to all of us that service of a man from India has been taken notice of by the international community which is very rare. Hence, let us all salute this great soul and show our gratitude and support by voting him to become the 'CNN – Hero of the Year 2010'
Real Heroes are very few in this world. Fewer of them are known. Fewest of them get recognised. Narayanan Krishnan has now got a good recognition. Let us all make the recognition spread all over the world and support his cause.
Support Shri.Naryanan Krishnan by voting him to become the 'CNN – Hero of the Year 2010
Click here for more stories about Naraynan Krishnan (CNN)