Haiti disaster – Time to show your humanity
Days after the magnitude 7.0 earthquake struck beneath Port-au-Prince, Haiti, some of the massive damage is becoming more apparent.
Rescue teams are arriving, aid groups are trying their best to battle huge logistical challenges, bodies are being identified, and some medical care is being given.
Rescue teams from all over the world have joined the recovery effort. The Red Cross ventured an estimate of up to 1,00,000 deaths.
Yet, the whole Haiti remains a place of profound need, anguish, desperation and danger, with a few glimmers of hope.  International agencies such as UNICEF, RED CROSS etc., are mobilizing funds from various sources.
Donations as low as US$ 5 is accepted by UNICEF through this website organized by Google.
You can donate online using your credit/debit card in the following website. The site is not a fake one as we already checked the genuineness of this site.
Your humanitarian gesture such as this yet small could make a lot of difference it it's wholehearted and collective.
Go to the site developed by Google for donating to Haiti earthquake through UNICEF
The image on the right shows the geographical position of Haiti also known as Port -Au-Prince.  It's such a small Island yet when talking in terms of death toll it's really a great grief
We provide here the glimpses of this natural disaster. This is not to horrify but to know the real situation in hand at Haiti.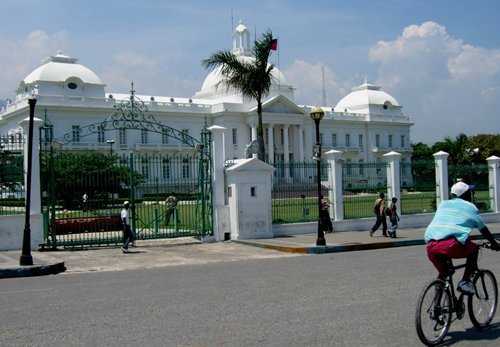 This is Haiti presidential Palace before the Earthquake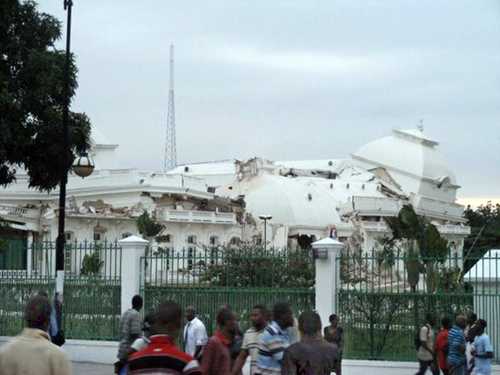 And this is the same palace after disaster.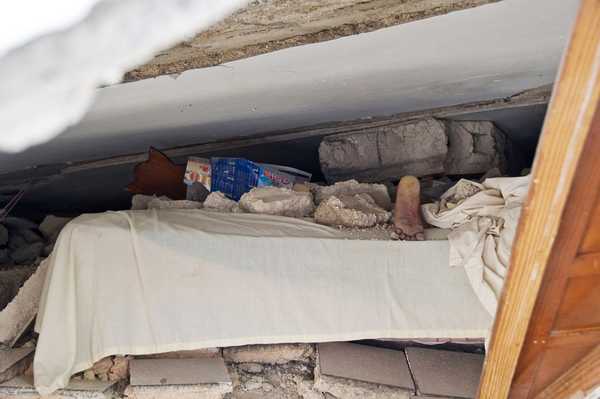 A girl lies trapped between her bed and the roof of her house on January 13, 2010 in Port-au-Prince, Haiti.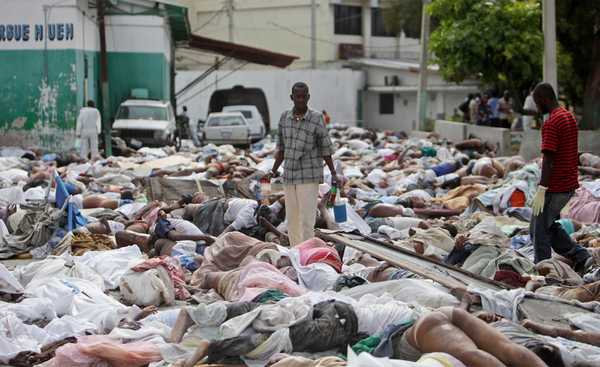 A man surveys hundreds of bodies of earthquake victims at the morgue in Port-au-Prince, Thursday, Jan. 14, 2010.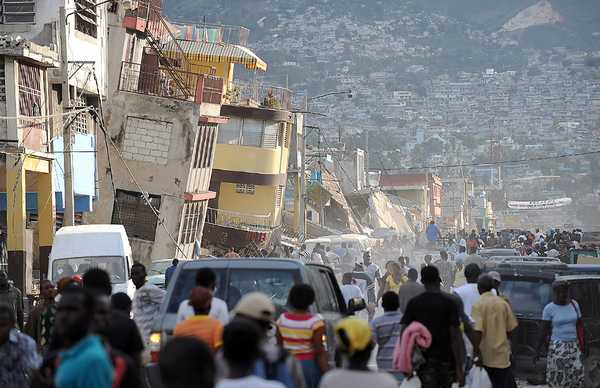 Pedestrians walk along a street destroyed by a massive earthquake that rocked Haiti, in Port-au-Prince on January 13, 2010.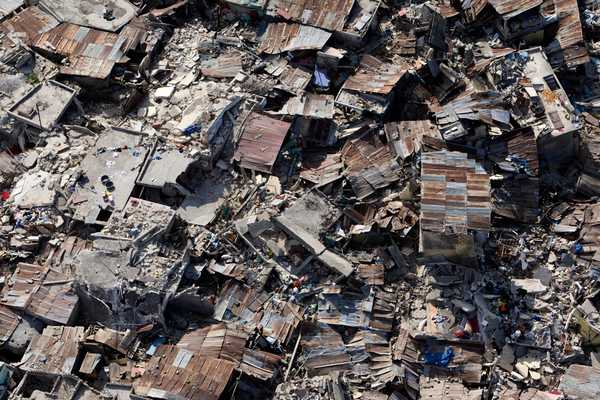 A photo released on January 14, 2010 from the UN Minustah mission of an aerial view of a flattened shanty town in Port-au-Prince following a devastating earthquake on January 12, 2010.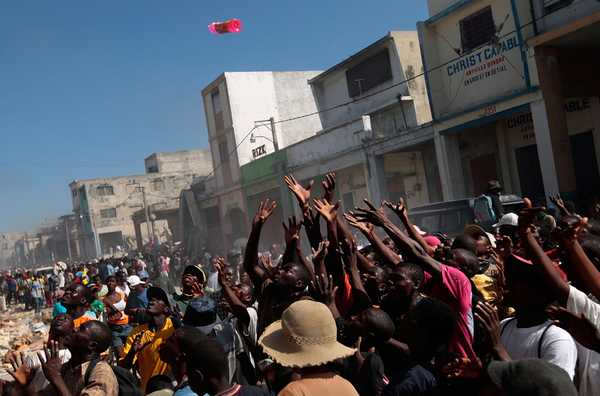 A mob of Haitians reach out as goods are thrown from a nearby shop in the downtown business district on January 17, 2010 in Port-au-Prince, Haiti.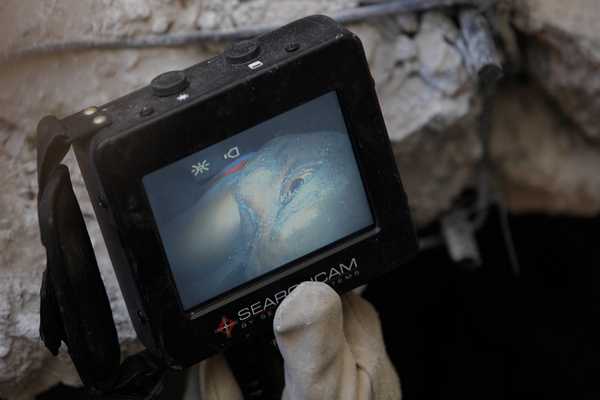 U.S. rescue worker Sam Grey, of the Fairfax County Urban Search and Rescue, holds a monitor showing a woman, Jean Luis Sainte Heleine, 28, alive and conscious, buried under the collapsed University of Port-au-Prince, Saturday, Jan. 16, 2010.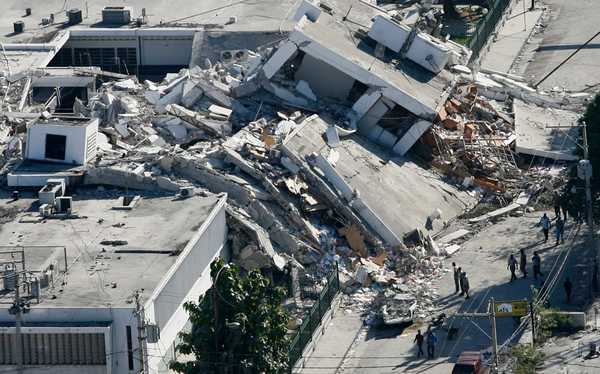 Haitians survey the damage to a building that collapsed onto a road in downtown Port-au-Prince January 17, 2010.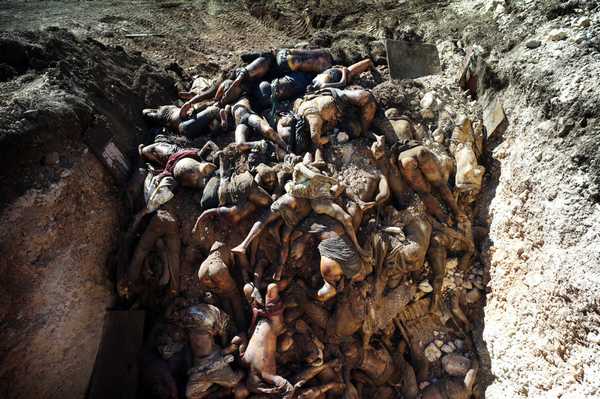 A Haitian mass grave receives unclaimed, unidentified bodies in the suburbs of Port-au-Prince January 16, 2010.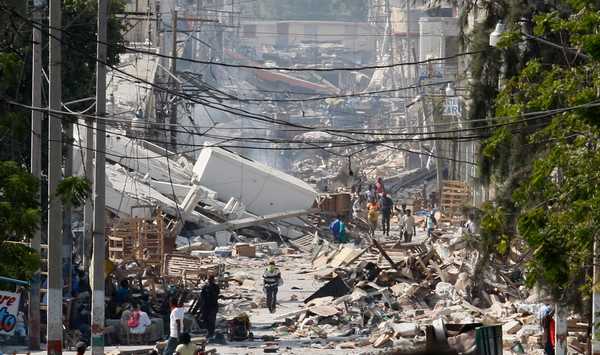 People walk on a debris-covered street in Port-au-Prince January 17, 2010.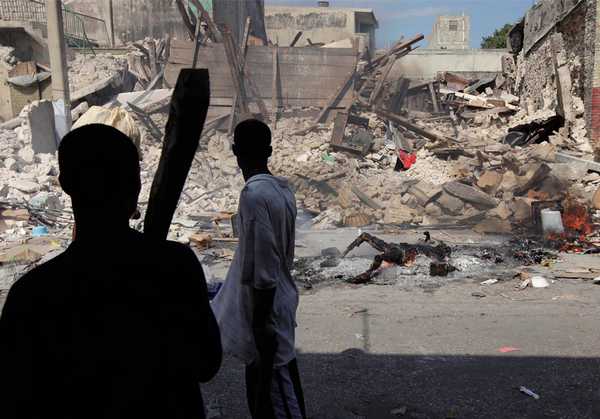 Men stand near a burning body left in the street in Port-au-Prince, Sunday, Jan. 17, 2010. U.N. peacekeepers patrolling the capital said popular anger is rising and warned authorities and aid organizations to increase security to guard against looting after Tuesday's earthquake.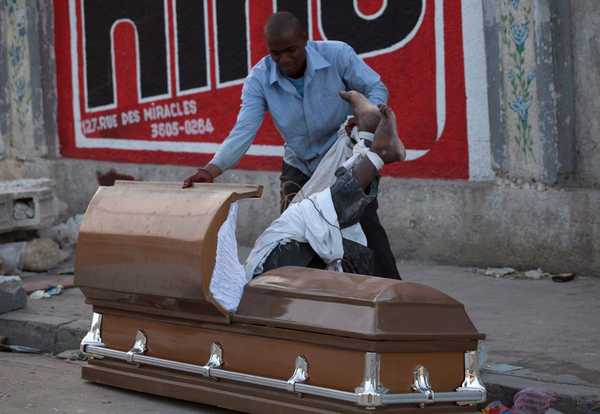 A man pulls the body of an earthquake victim from a coffin in order to steal the coffin at the cemetery in Port-au-Prince, Friday, Jan. 15, 2010.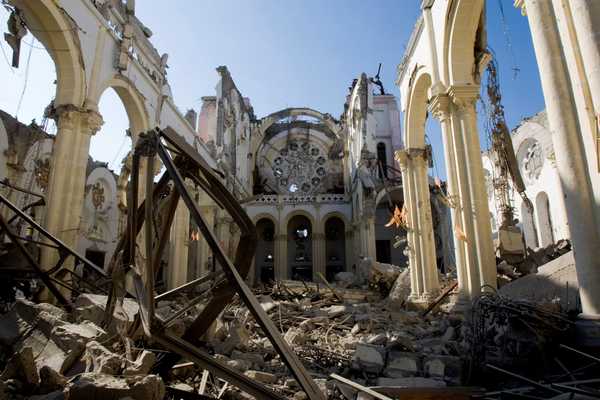 The ruins of a cathedral are seen in Port-au-Prince, Haiti.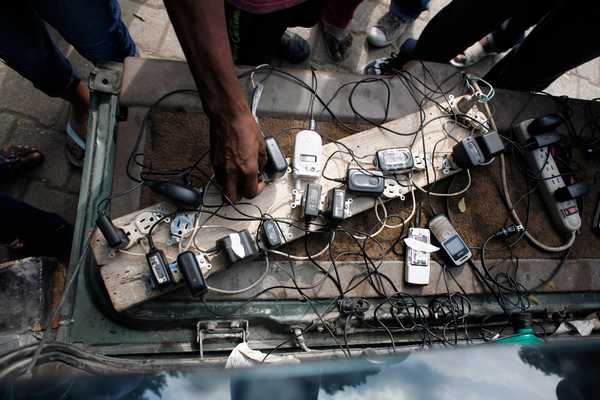 A man rents mobile phone chargers by the hour in downtown Port-au-Prince January 17, 2010.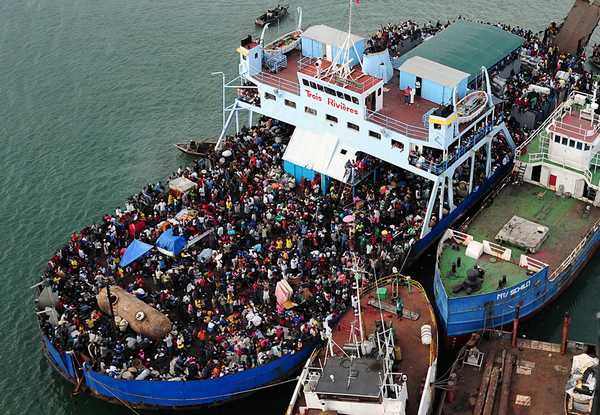 Haitian citizens crowd a ship in Port-au-Prince, Haiti, on Saturday, Jan. 16, 2010.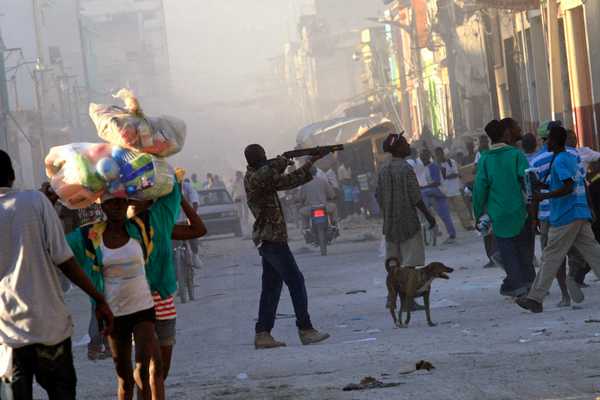 A man points a gun toward a crowd in downtown Port-au-Prince January 15, 2010. The man fired warning shots into the air to prevent looters from ransacking his shop, a Reuters photographer witnessed.