Simple way to bundle multiple web addresses in to one short link
Sharing a website links (URL) for official needs and to friends is a very common activity we do nowadays.
Normally each website Address will open one window or tab. So, if we need to send multiple web addresses or document links we may have to list out each link separately.
To illustrate, if you want to share the following links GConnect articles to your friends
Calculate Income tax 2012-13 -GConnect Income Tax Calculator
You may have to list all these links separately and send the same to your friend. For four or five links this method would be fine. What if you need to share more links? A long list of Web Urls would be required.
But the website called BridgeURL has simplified this job. You can create a single link for any number of web addresses (url). This newly created single short link can be shared to your friend. When this single short link is opened by your friend or boss, he/she can open all the web addresses that you wanted share, one by one without the need to enter each web address separately in the browser. So, When you reduce the work of your friend or boss, he is just going to say "Hey you are really smart!"
How to create single short link for multiple web addresses (URLs)
After entering the multiple web addresses one by one in a new line in the box provided for the same and giving a title in the text field provided, Click "Create Link" Button
For example the above four web URLs of GConnect can be converted in to single short link, by simply typing out each web address in BridgeURL web page one by one as given below in the following screen-shot.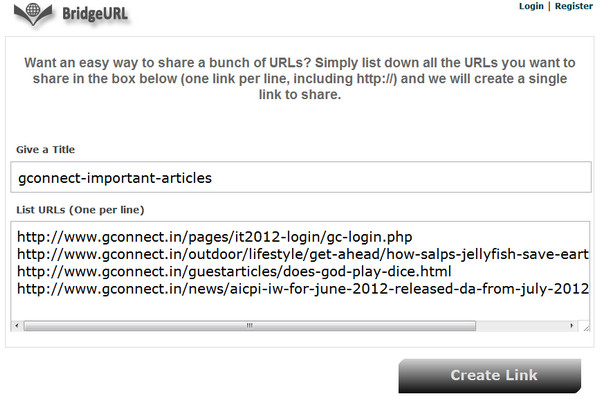 Now you will get a short link as well as a website addresses containing the title chosen by you. The following are these links created for the 4 GConnect links mentioned above.
http://bridgeurl.com/gconnect-important-articles
The above single short link can easily be shared in the place of four web page addresses (URLs) of GConnect which you wanted to share.
Click here to Go to BridgeURL website.