7th Pay Commission Latest News – IRTSA submits Memorandum
7th Pay Commission Latest News – IRTSA submits Memorandum to 7th Pay Commission implementation Cell / Empowered Committee – Demand for increasing Common Fitment Factor, increment amount, allowances, and Pension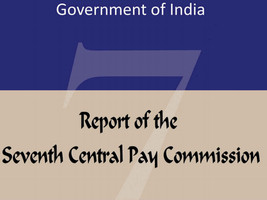 To
Shri Pradeep Kumar Sinha
Cabinet Secretary, Government of India & Chairman,
Empowered Committee on 7thCPC Report,
39-A North Block, New Delhi-110001.
Respected Sir,
Subject: 7th  CPC Report – Main issues of Multiple Factor, Allowances & major injustice and Reg. Pay Level & Classification of Technical Supervisors on Railways
Central  Government  employees  in  general  and  Technical  Supervisors  on  Railways  in particular are seriously aggrieved by extremely adverse & unjust Report of the Seventh Pay Commission and appeals to the Empowered Committee on 7th CPC Recommendations to please suitably modify the recommendations especially in respect of the following major issues including those of the major injustice Reg. Pay Level and Classification of Posts of Technical Supervisorson Indian Railways and Reg. Fitment Factor, Allowances etc.
1.PAY LEVEL OF TECHNICAL SUPERVISORS ON RAILWAYS (Para 11.40.104 of 7th CPC Report):
7th CPC initially observed that Technical Supervisors on Indian Railways play a vital role in the safe and efficient running of trains, but the Pay Level 6 & 7 recommended for this vital category is not commensurate with their duties, responsibilities, accountabilities and job requirements especially keeping in view the following factors:
i)    Need for higher Pay scales for Technical Supervisors in Indian Railways has been grossly ignored  by  the  Pay  Commission  –  in  spite  of  their  higher  Recruitment  Qualifications, Training, Job Requirements, onerous Nature of Duties, and increase in their Responsibilities due to modernization and introduction of high speed trains. Relativity against other non- technical cadres like Accounts etc. has been further disturbed.
ii)   As per established law, an equal cannot be over an equal and that Promotion implies advancement to a higher grade & Supervisor should be in a scale higher than Supervised whereas the JEs (Junior Engineers) on the Railways have been placed in Level-6 in which the Senior Technicians are placed even though JEs supervise the Senior Technicians.
iii)  Railways  had  agreed  for  higher  Grade  Pay  for  Technical  Supervisors  (JE  &  SSE)  as recorded in item-3 of Minutes of the Departmental Anomalies Committee (Railways) held on 01.06.2010. "It was brought out in the discussion that Technical Supervisors have superior recruitment conditions, duties and multifarious responsibilities to ensure out-turn targets, optimum productivity, quality control, safety, material management, optimum utilization of man-power machinery, equipment, rolling stock and other resources for efficient train operations. They are also given induction training after recruitment for 18 months period which is very much longer compared to other categories…."
iv)  It is, therefore, requested that the Junior Engineers (JEs) on the Railways may please be placed in Level 8 (instead of level 6); and Senior Section Engineers (SSE) may please be placed in Level 10 (instead of Level 7) in the new Pay Matrix.
1.2.  UPGRADATION OF 33% POSTS OF SSE AS PRINCIPAL SSE & PLACING THEM IN LEVEL- 11(PARA OF 7TH CPC 11.40.113):
a)  7th  CPC vide para no 11.40.113 in the chapter related to Technical Supervisors, accepted that there is stagnation at the stage of Grade Pay Rs.4600 (SSE) but it failed to consider the demand for upgrading the Posts of SSE in-charge to a higher grade as Principal SSE – as demanded by IRTSA as well as by both the Recognised Federations i.e. AIRF & NFIR;
Great degree of confusion in the work hierarchy and order of command has been created in the technical Departments on the Railways as in the Cadre  Restructuring of Group 'C' done thrice on the Railways over the last nearly 30 years, none of the Posts in the apex Grade of Group 'C' was ever upgraded and consequently the cadre of Technical Supervisors has become an inverted pyramid with no promotional avenues with 67% posts Technical Supervisors in the apex Grade of SSEs (Senior Section Engineer) and only 2 to 3% thereof in Group B – thus leaving large majority of SSE getting stagnated in that grade for 10 to 20 years or even more and retiring in that Grade itself.
b)  SSEs gain expertise in their related fields after putting in years of service. Utilizing the senior most Technical Supervisors as part of managerial cadre will be to the advantage of Indian Railways.
c)  Officers in the Junior Scale & Senior Scale who are from different streams cannot directly look after the work at the field level and as such cannot optimize performance of their own without a on-the-spot Managers in the Shop Floor / Shed / Depot etc.
d)  It is, therefore, imperative to have posts of Principal SSE for better efficiency and effective management at each level with clear line of control.
e)  Most SSEs including even the Graduate Engineers recruited as SSE against 20% DR quota (are placed in proposed Level-7) – do not get promoted to next grades of AWM/AE/AEE/ADME etc. due to lack of avenue of promotion since only 0.4% chances are available to them for their promotion.
f)   Historically, pay scales of apex grade of Technical Supervisors were higher than Group 'B' &
'A' officers by the 3rd& 4th CPC. But the 5th CPC onwards while level of Group A & Group B have been raised substantially, while the pay scale / Grade Pay of SSE has been relatively suppressed.
g)  Foremen 'A' / Shop Superintendent & Principal Foreman were granted the pay scale of Rs.840-1040 & Rs.840-1200 respectively above the pay scale of the rest of the Group C especially because they supervised the later. But this was also undone by 5th CPC.
PAY SCALES OF TECHNICAL SUPERVISORS & GAZETTED OFFICERS GRANTED BY 3RD CPC
Pay Scales for Technical Supervisors(Entry qualification of Diploma & Degree in Engg.)
Chargeman 'B'
425-700
Chargeman 'A'
550-750
Foremen 'B' & Assistant Shop Superintendent
700-900
Foremen 'A' & Assistant Shop Superintendent
840-1040
Special Grade of Principal Foreman
840-1200

Pay Scales for Class I & Class II posts
Entry qualification of Degree in Engg for Class – I Promotes from Technical Supervisors for Class – II

700 – 1250
1300-1600
1600-1800
It is therefore requested that 33% SSE post in PB 2 Grade Pay of Rs.4600 may please be upgraded & designated as Principal Senior Section Engineers and placed in Level- 11.
1.3. Similarly placed Rail Engineers who have same recruitment qualifications as those of Technical Supervisors and who are working in CMT, Stores & Information Technology wings of Railways i.e. DMS, CMA & JE/IT may please be placed in Level-8 of pay matrix and CDMS, CMS & Sr. Er/IT may please be placed in level-10 of pay matrix recommended by 7th CPC.
2.COMMON FITMENT FACTOR NEEDS TO BE HIKED (Ref. Para 4.2.9 of 7th CPC Report):
a)  7th Pay Commission has recommended a multiple Factor of only 2.57 even after adding the expected DA of 6% w.e.f. 1-1-2016. This will give a rise of only about 14.5% 0ver 225 % basic Pay as from 1-1-2016 after adding the said DA.
b)  At  present,  without  implementing  7th   pay  commission  recommendations,  year  on  year increase in the expenditure in both pay and pension has averaged about 11%.Thus real increase on account of increase in pay, all allowances & pension  will be only 12.55% (23.55% – 11% = 12.55%).Real increase on account of Pay & DA will be only 5% (16% –
11% = 5%) which is even less than the 6% of anticipated DA from 1-1-2016 which has already been included by the 7CPC.
c) It is clearly evident that financial implications will be very marginal on account of implementation of 7th CPC recommendations and that too will mostly go back to the Government in the shape of higher Income Tax liability after the Pay revision as proposed by the 7th CPC. In the scenario of increase in Government revenue every year and reduction in staff strength of every year, pay element in Government expenditure will come down every year with respect to revenue earning or GDP.
d)  40%  fixation  benefit  was  given  over  4th   CPC  Pay  for  fixation  in 5th   CPC  scales  to  all employees.
e)  40% fixation  benefit  was given over  5th   CPC  Pay for fixation  in  6th   CPC scales  to  all employees.
f)   But, only around 14.3% pay fixation benefit has been recommended by 7th  CPC over 6th CPC pay, which is grievously inadequate.
g)  Table-1 in the Annexure gives the comparison on  fixation benefit given by 6th   CPC& recommended by 7th CPC.
h)  Fitment Factor of 2.57 proposed by the 7th Pay Commission for Pay Fixation is totally unjust, inadequate and arbitrary especially keeping in view the high inflation (in real terms and wage disparity of Central Government employees with the organized sector including the PSUs.
i)   Fixation Benefit needs to be at least 40% Multiple Factor may please be fixed at least (Pay+DA) + 40% of Pay + DA, ie. 3.15 times of 6th CPC basic pay.
Table -2
TABLE SHOWING CALCULATION OF NEW PAY WHICH WILL BE EQUAL TO PAY + PAY FIXATION BENEFIT EQUAL TO 40% OF 6TH CPC PAY + DA
1

Minimum Pay after 6th CPC

7000

2

DA @ 125% (as anticipated from 1-1-
2016

8750

3

Pay + DA on 1-1-2016

15750

4

Fixation benefit @ 40% of (Pay + DA) Proposed as increase in real wage

6300

5

Proposed Minimum Pay (3+4)

22050

6

Increase in basic pay (in Rs.) (5 – 1)

15050

7

No. of times increase in basic pay

3.15

8

No. of times increase of Real wage

1.40
PROPOSED ENTRY PAY AS PER DIFFERENTIAL PROPOSED BY 7TH CPC:
Table-3
Entry Pay in 6th CPC

Entry Pay recommended by
7th CPC

Entry Pay as per table-2

GP

Pay in PB

Total

Factor

Entry Pay

Factor
3.15 for PB1
& 3.21 for PB2

PB-1 5200
– 20200

1800
5200
7000

2.57

18000
22100
1900
5830
7730
19900
24400
2000
6460
8460
21700
26700
2400
7510
9910
25500
31300
2800
8560
11360
29200
35800

PB-2 9300
– 34800

4200
9300
13500

2.62

35400
43400
4600
12540
17140
44900
55100
4800
13350
18150
47600
58300
5400
14880
21000
53100
67500
2.2.  UNEQUALPAY  RISE  PROPOSED  BY  7TH   CPC  –  INADEQUATE  FOR  PB-1  &  PB-2, HEAVILY IN FAVOUR OF HIGHER GRADES:
Pay hike recommended by 7th CPC is not uniform. Even though it recommended uniform application of factor of 2.57 to all the existing employees, the actual rise in terms of wages,is much lowerfor Levels recommended for PB-1 & PB-2 and much higher for Levels in PB-3 & PB-4. Disparity in pay
hike is shown in the Table-4 below:
Table–4
COMPARATIVE PAY RISE PROPOSED BY 7TH CPC
6th CPC

7th CPC

PB

Pay + GP

6th CPC Basic

6th CPC Pay +
125% DA

7th CPC Level

7th CPC Pay

% increase from
6th CPC Pay + DA to 7th CPC Pay

PB-1

5200-20200+1800
7000
15750

1

18000

14.3

5200-20200+1900
7730
17393

2

19900

14.4

5200-20200+2000
8460
19035

3

21700

14.0

5200-20200+2400
9910
22298

4

25500

14.4

5200-20200+2800
11360
25560

5

29200

14.2

PB-2

9300-34800+4200
13500
30375

6

35400

16.5

9300-34800+4600
17140
38565

7

44900

16.4

9300-34800+4800
18150
40838

8

47600

16.6

9300-34800+5400
20280
45630

9

53100

16.4

PB-3

15600-39100+5400
21000
47250

10

56100

18.7

15600-39100+6600
25350
57038

11

67700

18.7

15600-39100+7600
29500
66375

12

78800

18.7

PB-4

37400-67000+8700
46100
103725

13

118500

14.2

37400-67000+8900
49100
110475
13A
131100

18.7

37400-67000+10000
53000
119250

14

144200

20.9

HAG
67000-79000
67000
150750

15

182200

20.9

HAG+
775500-80000
75500
169875

16

205400

20.9

Apex
80000 (Fixed)
80000
180000

17

225000

25.0

Cab. Sec.
90000 (Fixed)
90000
202500

18

250000

23.5
It is, therefore, requested that the Pay of the Posts which have been given a lower Pay rise by 7th CPCs – including those in PB 1, PB 2 & PB 3 may please be given an equitable rise of 2.81 at par higher Pay levels instead of 2.57 at lower levels and 2.62 at Middle Levels as compared to 2.67, 2.72 and 2.81 at higher Levels.
3.ANNUAL INCREMENT & INCREMENT ON PROMOTION – EROSION OF WAGE (para 5.1.38)
a.    7th CPC has retained annual increment as 3% without applying any wisdom to it.
b.    Rate of annual increment should be equal to 5% of basic pay.This is necessary to provide adequate motivation, incentive and additional emoluments required to meet additional liabilities, as well as to compensate for the improved efficiency on account of experience etc. Pay matrix may please be revised keeping annual increment equal to 5% of basic pay.
c.    In 7th   CPC scales net monetary benefit on account of promotion will be less than  net monetary benefit than the employees are getting in 6th CPC scale. In illustration given below, an employee working in PB-2, GP 4800 with the Basic Pay of Rs.28,540 when promoted to GP 5400 will get net monetary benefit of Rs.3723, in 7th CPC matrix the net monetary benefit will be only Rs.2728.
Comparison of monetary benefit on promotion from GP 4800 to GP 5400 between 6th& 7th CPC pay

Basic
Pay

DA(125%
for 6th CPC
& 0% for
7th CPC)

HRA
(30% for
6th CPC
&24% for
7th CPC)

Total

Net monetary benefit on promotion

PB-2 GP-
4800

6th
CPC

28540

35675

8562

72777

7th
CPC

74300

17832

92132

Promotion to
GP 5400

6th
CPC

29600

37000

8880

75480

3723

7th
CPC

76500

18360

94860

2728
d.     It is, therefore, requested that on promotion or financial up-gradation under MACPS at least two increments may please be granted.
4. CLASSIFICATION OF POSTS OF SENIOR TECHNICAL SUPERVISORS – SSE, CMS, CDMS&SR.ENGR.(IT) IN GROUP 'B'(GAZ):- (Para 11.40.114):
i)    Railway Board had long back agreed with the two Federations to upgrade the posts in the Grade Pay of Rs.4600 to Group-B Gazetted and held several meetings for implementing the decision. Railway Board had agreed with the fact that "The percentage of Group 'B' officers vis-à-vis total workforce is merely 0.5% in Railways which is 5.6% for All India Central Government Employees and the same needed to be rationalized".
ii)   In all the departments, except the Railways, similarly placed posts in the pre-revised Grade Pay of Rs.4600 have been classified as Group 'B' Gazetted.
iii)  Financial Commissioner Railway Board had already given concurrence for the proposal of other Board Members to upgrade the posts of Senior Supervisors from Group 'C' to Group 'B' keeping in view the Financial advantage to Indian Railways by increasing Junior level
Management Cadre as agreed by Railway Board.
iv)  Commitment given by CRB to the two Federations in Departmental Council has not been implemented (Rly Board letter No.2013/E(LR)II/1/17 dated 18.02.2014): In meeting with both the Federations held on 07.04.2014, official side headed by CRB agreed for upgradation of posts from Group 'C' to Group 'B' and it was recorded that the matter has already been referred to MOF / DoPT, MS and FC will pursue Secretary, MOF & DoPT to resolve the matter urgently even though there was no need for such reference as the posts in Grade Pay of Rs.4600 were in any case required to be placed in Group 'B' as per orders of the DOP issued long back vide S.O.946(E) dated 9th April 2009.
v)  It is, therefore, requested to classify the posts of SSE, CDMS, CMS &Sr.Er(IT) in Group 'B' (Gazetted).
5. ELIMINATION OF STAGNATION OF GRADUATE ENGINEERS RECRUITED AS SSE, CMS & CDMS & Promotion of serving Engineering Graduates SSEs/CMS/CDMS to Group 'A' officers Cadre against 50% posts of in IRES & SCRA:
3.1 There is a lot of stagnation and resultant frustration among Engineering Graduates recruited as SSEs/CMS/CDMS as they do not get a single promotion for long years of service due very low percentage of Posts in Group B on the Railways,
3.2. It is, therefore, requested as under:
a.  Minimum  service  requirement  for  Graduate  Engineer  SSEs/CMS/CDMS  for  eligibility  to appear  for  LDCE  for  Group  B  be  reduced from  existing  5  years  to  3  years  in  view of  their qualifications;
b. Graduate Engineers recruited directly as SSE in the Grade Pay of Rs.4600 be made eligible automatically to appear for Group 'B' LDCE selection whenever JEs/SSEs who are Junior to DR SSE are eligible to appear for the said selection.
6. ALLOWANCES:
6.1. UNJUST FACTORS ADOPTED BY 7TH  CPC TO CALCULATE ALLOWANCES IN 7TH  CPC SCALE(para 4 of chapter 8.2.5)
a.  7th  CPC has used unjust factors to arrive at quantum of allowances in new pay and abolished 52 allowances.
b.  No allowances should be abolished and it should be left to the decision of respective departments for the continuance of allowances as per nature of duties & job requirements.
c.  Factor of 3.15 (proposed for new minimum pay) should be used for allowances that are paid in fixed amount. Factor of 1.6 (half of proposed factor for new minimum pay) may please be used for allowances that are indexed partially with DA.
d.  Factor of 1.4 @ 40% fixation benefit in pay be used for allowances that are indexed fully with DA.
e.  Factor of 1 be used for allowances that are paid in percentage of Basic Pay.
S N

Nature of Allowance

Factor recommen ded
by 7th CPC

Factor proposed

1

Allowances that are paid in fixed amount not indexed with DA

2.25

3.15

2

Allowances that are paid in fixed amount indexed partially with DA

1.5

1.6

3

Allowances that are paid in fixed amount indexed fully with DA

No change

1.4

4

Allowances that are paid in percentage of Basic Pay

0.8

1
6.2. Breakdown Allowance(para 8.10.8 &8.10.80): Breakdown allowance should be continued in Railways and it may please be paid equal to overtime calculation on hours worked for restoration.
6.3. NH Allowance(para 8.6.11): National Holiday Allowance should be paid at least equal to one day wages. It should be paid for working on holidays including Sundays if the employees are not given compensatory rest.
6.4. PCO Allowance(para 8.17.101):Incentive system followed in Indian Railways is unique for its system & within Railway Budget. Hence 7th   CPC's recommendations on PCO Allowance may please be ignored and the same be continued to be paid at the existing rates of 15% & 7.5% of new basic pay respectively. PCO Allowance may please be extended to CMT, Stores, Design & Drawing and other left out areas.
6.5.  Teaching  Allowance(para  8.14.8  &  8.14.9):  To  attract  more  talented  teaching  faculties, teaching allowance should be paid @ 30% as proposed by Railway Board some time back.
Eligibility for maximum period of five years recommended by 7th CPC should be ignored since many of Railway training institutes are having eight year tenure for teaching faculties.
6.6. Risk & Hardship Allowance(para 8.10.64): Risk & hardship allowance should be extended to sheds& depots and open line staff &Technical Supervisors as per medium & low risk factors of Risk
& hardship Matrix recommended by 7th CPC.
6.7. Fixed Medical Allowance (para 8.17.52): Considering the high cost of medical treatment in old age FMA should be raised from the present level of Rs.500 to Rs.2000 and it should be paid to all the retired employees without any restriction.
6.8.  Internet   Allowance,  Mobile  Phone  Allowance(para  8.17.61):  Indian   Most  Railways employees are using their individual mobile and / or internet to perform the official duty. All the non- supervisory employees may please be granted with Rs.500 and Technical Supervisors may please be granted Rs.1000 as communication allowance. Or all supervisors may please be provided with CUG connections with free talk time of Rs.1000 per month.
6.9. Night Duty Allowance(para 8.17.77): Formulation of weightage of 10 minutes for every hour of duty performed between 22.00 and 6.00 hours may please be changed to 20 minutes for every hour of duty performed between 18.00 and 6.00 hours in view of hazards of work during Night Shift.
7.1.BENCHMARK PROPOSED BY 7TH CPC FOR MACPS (PARA 5.1.44)
a)    MACPS & ACP were recommended by the last two pay Commissions as a Financial Upgrading for those who were unable to get any promotion over long years of service due to lack of promotional avenues.
b)   Seventh Pay Commission has very unjustly proposed raising of benchmark for MACPS from "Good" to "Very Good" and the very purpose of this Scheme would be defeated – since the Benchmark is not applicable to any of the Promotions in Group C.
c)   It is, therefore, requested that unfair benchmark of "very good" proposed by the 7th CPC for the purpose of financial upgradation under MACPS may kindly be withdrawn and the same may be maintained as "Good".
7.2.  FINANCIAL   UPGRADATION  UNDER  MACPS  AFTER  EVERY  8  YEARS  &  IN  CADRE HIERARCHY:
Financial up-gradation under MACPS after 10, 20 & 30th years is in any case very inadequate and may kindly be provided after maximum of 8 years of service at each Level in the Cadre hierarchy.
8. CGEGIS – Central Government Employees Group insurance Scheme(para 9.3.6of 7th CPC Report)
a)   Term insurance premiums have plummeted over last 6 years. Since 2009, term insurance premiums have crashed by 75 percent. A one crore cover for 30 year old male did cost around Rs.30,000 in 2008, but one would be able to get the same cover today for around Rs.8000. But 7th  CPC has made its recommendations exactly opposite to the trend in the market, instead of passing on the benefit to employees, 7th  CPC recommended for taking away even meager benefit extended in the form of contribution to CGEGIS.
b)   Huge increase in monthly deduction for GIS: 7th  CPC has recommended for increasing monthly deduction & insurance amount by 41.7 times for Group 'A' & 'B' and 50 times for Group 'C' as given in table below,
Group

Existing

Recommended by 7th
CPC

Recommended increase

Monthly
Deduction

Insurance
Amount

Monthly
Deduction

Insurance
Amount

Monthly
Deduction

Insurance
Amount

A

120

120000

5000

5000000

41.7 times

41.7 times

B

60

60000

2500

2500000

41.7 times

41.7 times

C

30

30000

1500

1500000

50 times

50 times
c)    7th CPC recommended a ratio of savings fund to insurance fund as 75:25.
d)   Therefore, for the annual contribution of Rs.18,000 by a Group 'C' employee, Rs.13,500 will go for savings fund and Rs. 4,500 will go for insurance fund.On cessation of account (i.e. on retirement)  savings  amount  plus  8.7%  interest  per  annum  (compounded  quarterly)  for savings account has to be paid to the employee.
e)   In case of demise of the employee savings amount plus Interest as applicable on date plus insurance amount has to be paid.
f)    So for risk coverage to the value of Rs.15,00,000 a Group 'C' employee need to contribute Rs.4,500 annually.
g)   Whereas in LIC's New Amulya Jeevan-II insurance policy, which covers risk (and 100% goes to insurance fund), if a person joins at the age of 20 for the period of 30 years, for risk insurance amount of Rs.25,00,000annual contribution is only Rs.3,652 per year.
h)    In LIC's New Amulya Jeevan-II policy annual contribution is less by Rs.848 and insurance amount is Rs.10,00,000 (Rs. Ten Ten Lakhs) more than CGEGIS recommended by 7th CPC– as indicated in the Table below:
Annual deduction/contribution

CGEGIS

New Amulya Jeevan-II policy by LIC

Savings Fund

Rs.13,500

0

Share of Contribution to Insurance Fund – vs
-LIC Premium

Rs.4500

Rs.3652

Sum Insured for

Rs.15,00,000

Rs.25,00,000
i)     When around 30,00,000 employees are going to be in the Group insurance scheme, annual deduction has to be much less than LIC's policy which is offered for individuals.
j)     Monthly deduction given in the table below indicates the premium applicable in New Amulya Jeevan-II insurance policy for the recommended insurance amount by 7th CPC
Recommended by 7th CPC
Proposed amount

Group

Insurance
Amount

Monthly deduction
towards Insurance
fund

Insurance
Amount

Monthly deduction towards Insurance fund
(Based on LIC Premium for
individual Amulya
Jeevan II Policy )

A

5000000

1250

5000000

620

B

2500000

625

2500000

310

C

1500000

375

1500000

185
k)    By  adding  deduction  towards  savings  fund,  monthly  deduction  for  CGEGIS  for  the insurance amount recommended by 7th  CPC is given in the table below and the savings fund should earn the interest at least equal to interest on PF.
Group

Existing

Proposed

Monthly
Deduction

Insurance
Amount

Monthly Deduction
(Savings fund + Insurance fund)

Insurance
Amount

A

120

120000

2000

5000000

B

60

60000

1000

2500000

C

30

30000

500

1500000
9. PENSION & RELATED BENEFITS
9.1. Withdrawal of National Pension System/New Pension Scheme (NPS) (Chapter 10.3)and Restoration of existing benefits of Pension & GPF for those appointed after 1.1.2004. Refund of contributions to NPS with Interest thereon at appropriate rate.
9.2. Increase in the rate of Additional Pension and Family Pension to the old pensioners (para 10.1.29 of 7th CPC Report):
Sixth Pay Commission had recommended additional Pension of 20, 30, 40, 50 and 100 % for retirees and family pensioners on attaining the age of 80, 85, 90, 95 and 100 years respectively. But this did not meet with the requirements of those in the age group of 65 to 80 years of age for meeting additional expenses on old age diseases and disabilities and other unforeseen exigencies, which further increase even faster in later years. Recommendation of Sixth Pay Commission for grant of 100% additional Pension after 100 years of age was illusionary and unjust in view of rare chances of survival up to or beyond 100 years of age.   7th  CPC has also not changed these conditions.
Additional Pension / Family Pension may please be paid at following rates- in view of gradual increase in the expenditure on Medical treatment and health care in old age:
a.    10% additional Pension/Family Pension after 65 years of age
b.    20% Additional Pension/Family Pension after 70 years of age
c.    30 % additional Pension/Family Pension after 75 years of age
d.    50% additional Pension/Family Pension after 80 years of age
e.    70% additional Pension/Family Pension after 85 years of age
f.     100% additional Pension/Family Pension after 90 years of age
9.3 Fixed Medical Allowance (Para 8.17.51 of 7th CPC Report)
FMA: Grant of Medical Allowance of Rs.2000 pm to all retired employees & Pensioners: The cost had exorbitantly increased for the Medicines, Consultation Fee and cost of Pathological Test required for day to day medical treatment since 1997 (when the FMA was initially granted) and this had risen at a much steeper rate the Price Index.
i)     A large proportion of Pensioners were residing in remote areas or villages having no excess to CGHS Dispensaries & Railway Hospitals and are as such, are wholly dependent on the paltry amount of FMA for day to day treatment of self & spouse.
It is, therefore, requested that the FMA may please be revised to at least Rs.2000 p.m.
10.Request for personal hearing to IRTSA:  We request you to grant a personal hearing to IRTSA (Indian Railways Technical Supervisors Association) to enable us to personally explain the these foregoing points to the Implementation Cell on 7th CPC Report.
Source: IRTSA