Articles you may Like
7th Pay Commission expenditure taken in to account in the budget 2016 – FM in his post budget speech with media says actual expenditure on account of implementation of 7th Pay Pay Commission will be known once Empowered Committee that process the 7th CPC Recommendations.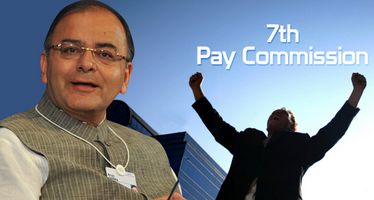 Though Finance Minister has not directly informed the media about the implementation of 7th Pay Commission in his post budget interaction, he pointed out that allocation has already been made for significant part of expenditure on account of implementation of 7th Pay Commission.
FM also informed the media that the actual financial burden as a result of hike in pay of Central Government Employees would be known only after the decision made by committee of Secretaries.
The Committe of Secretaries called Empowered Committee was been appointed by the Govt to process the recommendations of 7th Pay Commission This Committee would submit its decisions on the recommendations of the 7th Pay Commission which will be submitted to Cabinet for its approval.
Earlier, FM in his budget speech before Parliament had observed that financial year 2016-17 will face an additional burden due to implementation of the 7th Pay Commission and OROP
Checkout this link to read the article on FM's remarks on 7th Pay Commission in the Budget 2016
7th Pay Commission Latest News – Minutes of Meeting held with Staff Side JCM on 19.02.2016
Govt ready to implement 7th Pay Commission Report – Economic Survey 2016 indicates
7th Pay Commission Pay and Allowances Calculator for Civilian Employees in Central Government
7th Pay Commission Pension Calculator for Central Government Pensioners
7th Pay Commission Defence Pay Calculator
Now, his post budget speech also indicates the intention of Govt to implement 7th Pay Commission report in this financial Year.
Finance Minister also informed the media that Government is ready to meet Central government employees to consider their suggestions and demand for inrease in pay and allowances over the 7th pay commission recommedations.
NJCA, the joint action committee that represents all federations, unions and associations of Central Government Employees including Railway Employees, Defence Personnel and Pensioners has submitted its charter of demands to 7th Pay Commission implementation Cell already. NJCA demands minimum pay of Rs. 26000 as against Rs.18,000 recommended by 7th Pay Commission.
Some of other demands of staff side are:
Fitment formula of 2.57 fixed by 7th CPC has to be revised
Wage of Central Government Employees be revised in every 5 years
Revise the rate of increment to 5 %
Exclude the Central Government employees from the ambit of the National Pension Scheme
50% of the CGEIS premium to be paid by the Government in respect of Group B and C employees
Health insurance to be introduced in addition to CGHS/REHS and CCS(MA) benefits and the premium to be paid by the Government and the employee equally
In the mean time, Staff Side JCM / NJCA will be meeting Empowered Committee on 1st March 2016 to present its demands
Click here to read: Search empowered 7th Pay Commission Empowered Committee Meeting with Staff Side JCM on 01.03.2016
Source: Zee News