Articles you may Like
7th Pay Commission – Doctors met FM over reduced NPA and omitting NPA for calculating HRA, the two recommendations of 7th Pay Commission which Doctors in Central Health Services.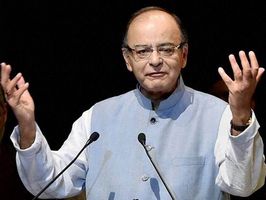 Following the Strike organised few weeks back, FORDA and JACDO, the two Associations of Doctors in Central Health Services met Mr. Arun Jaitley, Finance Minister in connection with the two recommendations of 7th Pay Commission relating to reduction in NPA (non-practising allowance) and omission of the said allowance for the purpose of calculating HRA.
Click here to checkout the recommendations of 7th Pay Commission relating to Doctors 
Describing the proposal of 7th Pay Commission in respect of NPA to the extent of reducing the same from 25% to 20% as against the demand of Central Doctors for increasing the same to 40% as discriminatory, the members of FORDA and JACDO (Federation of Resident Doctors Association and (Joint Action Council of Service Doctor Organisation) submitted a representation to the Finance Minister.
After the meeting FORDA President Dr Pankaj Solanki. reported on behalf of the doctors associations reports that the Minister listened to our issues patiently and attentively. He was appraised especially for NPA issue. He showed his concern about our salary being relatively reduced by 7th CPC.
"He assured us that our representation is being directed to Secretary Expenditure for re-evaluation. He also assured, if any concern still remains pending in the matter of NPA (and other issues), it shall be scrutinised and considered by forthcoming 'Anomalies Committee' which shall be appointed hereafter," added Dr Pankaj Solanki.
He also reported that when the 7th CPC was constituted doctors were very hopeful that their demands will be looked after, which is increasing Non-Practising Allowance (NPA) to 40 per cent from existent 25 per cent, instead it has been reduced to 20 per cent.
Dr Pankaj Solanki further said "The basic pay and NPA were merged together while calculating House Rental Allowance (HRA) earlier, but this has now been omitted and HRA will be calculated only with basic pay resulting in less than the desired salary,"
FORDA and JACDO also demanded uniform pay scales, night shift allowances at par with nursing staff in government hospitals.
The Doctors associations also stress upon the need for formulation of a uniform central residency scheme for the resident doctors of India.
Source: NDTV