Salary for Housewives – Bill to be moved – Says Minister
Pay Salary to better half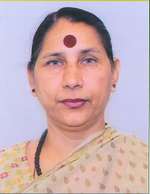 Smt. Krishna Tirath, Minister for Women and Child Development Ministry has reported that Government is in the process of drafting a bill which when tabled in Cabinet and passed in both houses, Housewives will have to be paid monthly salary by their husbands for the domestic work done by her in the home.
Women and Child Development Minister Smt. Krishna Tirath reportedly said the move is part of government's efforts aimed at women empowerment.
Smt.Tirath said the government will set a standard for the salary amount to be paid to housewives every month.
The minister informed that once the draft Bill is ready, it could be presented before Parliament within six months.
As revealed by the Sources in the Ministry the proposal for this payment of salary by husbands to housewives, 10-20% of married male's monthly salary will have to be deposited in a bank account his better-half.
Source: Zee News