Railway Budget 2016 – Will Prabhu's gamble Pay Off?
Railway Budget 2016 – Will Prabhu's gamble Pay Off? –
However, Prabhu said that the Railways have initiated several austerity measures which could help contain the fallout.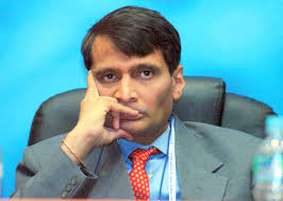 Railway minister Suresh Prabhu's second railway budget came perhaps at the most difficult times for the Indian Railways with the national transporter missing its targets for traffic earnings, while facing an additional burden of Rs 28,450 crore on account of increase in staff salary as per the Seventh Pay Commission recommendations.
In his second Railway Budget presented to Parliament, Prabhu pitched for capital expenditure of Rs 1.21 lakh crore in the coming financial year, up from Rs 1 lakh crore this year. "Every rupee of investment in the railways has the capacity to increase the economy-wide output by Rs 5," Prabhu said, while presenting the Railway Budget for 2016-17. "The impact that this increased investment will have on the economic growth of the country is unprecedented," he said.
To bankroll the higher capital expenditure, Prabhu has projected a 10.1 per cent rise in the Railways' gross traffic receipts to Rs 184,819 crore in 2016-17. This in spite of the fact that goods earnings, which account for almost 70 per cent of gross traffic receipts, fell 7.88 per cent over the initial estimates in 2015-16 on account of the slowdown. Passenger earnings too fell 9.56 per cent short of the estimates.
Prabhu hopes this trend will reverse in 2016-17 in anticipation of healthier growth in the core sector. But he is not banking on that alone: he announced steps to win back market share in freight movement, which the Railways have steadily lost to the road sector in the last several years.
He will look for higher non-traffic revenue to fund his capital expenditure plan. Prabhu's target is to raise this revenue four times in 2016-17 through redevelopment of stations, commercialisation of land along tracks, and monetisation of soft assets.
Prabhu has also budgeted for higher market borrowings by Indian Railway Finance Corporation for investment in rolling stock and projects (Rs 8,168 crore) and more institutional finance (Rs 11,402 crore) in 2016-17 when compared to 2015-16 (revised estimates). However, there is a decline of Rs 8,929 crore in investments through partnerships.
During the year, the liability on account of the Seventh Pay Commission will lead to a jump of 11.6 per cent in the Railways' ordinary working expenses to Rs 1,23,560 crore and cause a 27 per cent rise in pension liability to Rs 45,500 crore.
However, Prabhu said that the Railways have initiated several austerity measures which could help contain the fallout. In 2015-16, these measures helped the Railways reduce ordinary working expenses by Rs 8,720 crore, or 7.3 per cent, which, coupled with the Rs 2,400 crore cut in appropriation to depreciation reserve fund and the Rs 2,315 crore lower dividend, mitigated to a large extent the Rs 15,743 crore shortfall in gross traffic receipts.
Still, the surplus, or excess of receipts over expenditure, is projected to fall over 25 per cent from Rs 11,402 crore in 2015-16 (revised estimates) to Rs 8,479 crore in 2016-17, which will result in lesser allocations for the development fund, capital fund and service fund.
In his Budget, Prabhu outlined a series of systemic changes that could make the Railways more nimble. This includes reorganising the all-powerful Railway Board along business lines and suitably empowering its chairman. He also proposed to set up a Railway Planning & Investment Corporation to draft medium- (five years) and long-term (10 years) corporate plans.

Prabhu's hour-long speech, however, skipped the grave numbers which he chose to table before the Lok Sabha as annexure to the speech. The speech instead focussed on catchy slogans and wooing special categories like women and journalists.
The minister did not display a chartered accountant's skill of addressing hard numbers and giving a concrete plan of what he wants to do with below expectations traffic earnings. Without increase in fares or freight rates for 2016-17, the minister could not perhaps have done anything else. The gross traffic receipts in 2015-16 were short by Rs 15,744 crore compared to the budget target of Rs 1,83,578 crore. Both passenger and goods traffic performed below expectation. The freight earnings have been impacted by the low demand from the core sector.