One Rank One Pension – Ex-Servicemen upset over delay in implementation of OROP – Plan for nation-wide agitation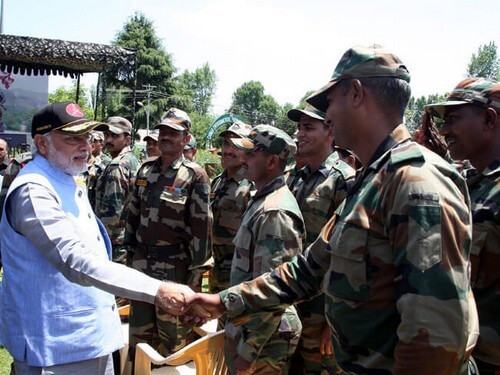 The veterans community of defence services has been sorely disappointed by the absence of any announcement regarding implementation of One Rank One Pension (OROP) by the union government after the completion of an year in office and discussions have begun on whether this is the right time to hold a nation-wide agitation to press for the same.

Throughout the day yesterday, there was a buzz of excitement on social media groups as the veterans got the impression that Prime Minister Narendra Modi would make an announcement regarding OROP at his rally in Bareilly. However, no such announcement was made causing consternation among the veterans ranks.

Brig Gurmeet Kanwal (retd), a well known strategic expert tweeted, "All Veterans and those who support them are requested to retweet please… #OROP Prime Minister we are disappointed". Air Marshal Anil Chopra (retd), member of Armed Forces Tribunal tweeted, " OROP overtakes DDLJ as the longest running reality show".

Speaking to The Indian Express, Brig KS Kahlon (retd), President, All Indian Defence Brotherhood, said that non implementation of OROP has caused great amount of resentment among the veterans and they are gearing themselves up for a prolonged agitation to ensure that the government delivers on its promise.

Prime Minister Modi made repeated assurances at many places, and while addressing the troops at the highest battlefield of the world, Siachin, on the eve of Diwali last year, he stated that the order of implementation of OROP had been issued. Defence Minister Manohar Parrikar repeatedly assured the veterans that the NDA government will implement OROP before the government completes a year in office. Unfortunately the government hasn't lived up to its promise," said Brig Kahlon.

The veterans had conducted a mass movement during the tenure of the UPA government wherein they had returned their medals to the President and held rallies at Jantar Mantar to force the government to accept their demand of OPRP. According to Lt Col SS Sohi (retd), President of Ex-Servicemen Grievances Cell, the time has come when another such mass agitation may have to be held all over the country again.

We are still willing to wait for a few days more for an announcement in this regard. If by the end of this month if they do not do anything we will go for an agitational approach. There have been several meetings with the defence minister and several promises made but each time the veterans community has been let down. We must take recourse to a more tough approach if we have to force the government to concede to our legitimate demands," said Lt Col Sohi.

However, Lt Gen Raj Kadyan (retd), a former Deputy Chief of Army Staff and Chairman of Indian Ex-Serviceman Movement was of the view that the hype over the expected announcement by PM was largely "self created". "We were hoping that the PM would make the announcement but I am of the view that there is no need as yet to hold an agitation. We have waited for 33 years and we should wait for some more time," he said.
Source: The Indian Express