List of Countries Visited by PM in 2015 – 27 Trips – 28 Nations
List of Countries Visited by PM in 2015 – As the year come to an end, he has made 27 trips and visited 28 nations in a year.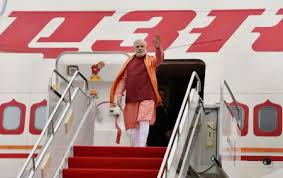 A Right to Information (RTI) filed by Delhi-based activist Lokesh Batra revealed that by mid-September India had spent Rs 41.1 crores over Prime Minister Narendra Modi's foreign visits in the last one year. As the year come to an end, he has made 27 trips and visited 26 nations in a year.
Let's have a look at the nations that our PM visited this year : –
1. Seychelles ( March 10-11) – Met President James Alexis Michelin as a part of Indian Ocean outreach programme and discussed maritime ties and bilateral development and cooperation.

2. Mauritius (March 11-13) – PM was the chief Guest at the Independence Day celebrations in Mauritius on March 12.
3. Sri Lanka (March 13-14) – Sri Lanka released 86 fisherman prior to Modi's visit. It was the first visit by an Indian Prime Minister in 28 years aimed at improving the relation with the island country after Rajiv Gandhi's assassination. The visit was also to discuss increasing Chinese activities in Lanka.
4. Singapore (March 29) – he attended the state funeral of first Prime Minister of Singapore Lee Kuan Yew, on the sidelines he also met several world leaders and Israeli President.
5. France (April 9-12) – To encourage French defence, civil nuclear power and food processing companies to participate in Make in India programme.
6. Germany (April 12-14) – To visit business leaders at Hannover Messe business fair.
7. Canada (April 14-16) – To strengthen Indian- Canadian bilateral relations in various sectors including aerospace and defence, education, energy, mining, infrastructure, sustainable technologies, information and communication technology. He also met Indians in Canada and visited Laxminarayan temple and Gurudwara.
8. China (May 14-16) – The issues for discussion included long-pending border dispute, a widening trade imbalance in favour of China, stapled visas, China taking up large infrastructure projects in Pakistan-occupied Kashmir and economic matters.
9. Mongolia (May 16-17) – to address Great Khural on May 17 and announced a line of credit of US $1 billion to Ulaanbaatar to develop institutions, infrastructure and human resources in Mongolia. He also gifted Mongolia a Bhabhatron for cancer treatment.
10. South Korea (May 18-19) – As a part of East Asia Policy, Modi upgraded the ties between two nations to 'Special Strategic Partnership' and signed seven agreements including one on avoidance of double taxation.
11. Bangladesh (June 6-7) – There were 22 agreements signed between the two nations including 1974 Land Boundary Agreement. Other issues discussed include business of water from the Teesta river, issues between border forces and an equal treatment for Bangladesh.
12. Uzbekistan (July 6) – Three pacts were signed to boost cooperation between foreign offices in the field of culture and tourism. Enhanced strategic, economic and regional issues like the situation in war-torn Afghanistan also made it to the agenda.
13. Kazakhstan (July 7) – Key issues discussed included fight against terrorism and extremism. Five key agreements were inked, which included a defence pact to enhance military cooperation and a contract for supply of uranium.
14. Russia (July 8-10) – Attended BRICS and Shanghai Cooperation Organisation ​(SCO) Summits.
15. Turkmenistan (July 10-11) – PM Modi signed seven pacts with Turkmenistan, vowed to fight terrorism together and pitched for an early implementation of the US $10 billion TAPI pipeline project.
16. Kyrgyzstan ( July 12) – Signed four agreements to boost defence cooperation and hold annual joint military exercises and discussed combating international terrorism and other crimes.
17. Tajikistan (July 12-13) – Unveiled a statue of poet Rabindranath Tagore in Dushanbe and discussed regional issues including Shanghai Cooperation Organisation (SCO) with President Emomali Rahmon.
18. United Arab Emirates (August 16-17) – Visit to United Arab Emirates was aimed at reaching out to the Indian diaspora there, wherein he announced E-migrate portal, 'MADAD' for Indian migrants, counsellor camps for Indian workers among other measures. The talks also focussed on enhanced energy and trade cooperation. The last prime minister to visit UAE was Indira Gandhi.
19. Ireland (September 23) – First Prime Minister to visit Ireland in 59 years, Modi discussed global challenges like terror and radicalisation with his Irish counterpart Enda Kenny. He also hoped for relaxed visa policies for Indian IT firms. They also spoke about India's membership of UN Security Council and international export control regimes including NSG.
20. United States (September 24-30) – US visit was focussed towards United Nations General Assembly (UNGA), large Indian diaspora and Silicon Valley honchos.
21. United Kingdom ( November 12-14) – India and the UK sealed deals worth 9-billion pound, a civil nuclear pact was signed and collaboration in the fields of defence and cyber security was decided upon, besides talks about railway rupee bond were launched.
22. Turkey (November 15-16) – Modi attended G20 summit which focussed on current state of the global economy, sustainable growth, development and climate change, investment, trade and energy.
23. Malaysia (November 21-22) – Inaugrated Torana Gate, attended ASEAN and East Asia Summit, discussed Ayurveda and defence cooperation in Malaysia.
24. Singapore (November 23-25) – Commemorating 50 years of diplomatic relations between the two countries, PM Modi and his Singapore counterpart signed the India-Singapore Strategic Partnership.
25. France (November 30 – December 1) – Attended COP21 Environment Conference and laid down India's stratergy on global warming.
26. Russia (December 23-24) – 16th India-Russia annual summit talks would focus on stepping up economic engagement and strategic ties. Deals over defence sector which includes joint manufacturing of 200 Kamov-226T helicopters and purchase of Russian S-400 Triumf air defence missile systems also hold an important place apart from access to secret Russian files to unveil mystery of the disappearance of Netaji Subhas Chandra Bose.
27. Afghanistan (December 25) – The Afghan Parliament constructed by India at the cost of US $ 90 million inaugrated by Modi.
28. Pakistan (December 25) – To greet Nawaz Sharif, on his 66th birthday.