Articles you may Like
How to enroll for Jeevan Pramaan ? – Online Digital Life Certificate for Pensioners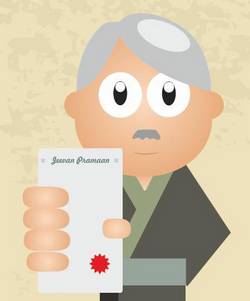 Prime Minister, Shri Narendra Modi, formally launched a digital life certificate project developed by Department of Electronics, Government of India recently which is popularly called as "Jeevan Pramaan".
This is an Aadhar-based Digital Life Certificate for pensioners. Central Government Pensioners and State Government Pensioners who are in possession of Aadhar Card can enroll for Jeevan Pramaan – online Pensioners' digital life certificate. In lieu of production of physical life certificate with bank and other agencies, Pensioners can then share the ID of his / her digital Pension Life Certificate.
Enrolment in Jeevan Pramaan can be either made by Pensioners himself / herself, if they are used to either browsing in Internet or Android Applications in Mobile Phone / Tablets.
Pensioners can also enroll in to Jeevan Pramaan – Online Digital Life Certificate system, by visiting any of approved centers where enrolment of Pensioners with a valid aadhar card in Jeevan Pramaan will be made by officials in-charge of Jeevan pramaan in that center.  More than 40,000 Locations (Jeevan Pramaan Centers) are available across the country, to which Pensioners can visit with a valid aadhar card to get a digital pension life certificate.
Check the following link to get the list of centers where Jeevan Pramaan enrolment facility is available
Click here to get the list of Jeevan Pramaan Centers – Aadhar-based Digital Life Certificate for pensioners
Steps for getting online Digital Life Certificate if intend enroll yourself
1. Go to jeevanpramaan.gov.in, the official website for Online digital life certification project developed by CSC, Department of Electronics, Government of India
2. If are using a desktop computer or laptop, download application package meant for PC and install the same in your PC. Similarly, in the case of Android smart phone or tablet, Jeevan Pramaan android app has to be downloaded from the official website.
3. After getting registered in Jeevan Pramaan using your Aadhar card details, a bio-metric device which is compatible with software download has to be attached PC/phone/tablet to scan your finger-prints. A detailed write-up is available with software downloaded for step by step procedure, list of compatible bio-metric devices. Driver Software meant for bio-metric devices are also available with the downloaded Jeevan Pramaan software package.
4. Once your bio-metric credentials match with the one already available in the Aadhar database, a digital life certificate with unique ID will be generated and saved in Jeevan Pramaan digital life certificate repository.
5. This repository can be accessed by Banks, and other pension related agencies for verification of Pensioners life certificate.
6. Pensioner can also download Digital Pension Life Certificate in PDFs form and make print out of it he / she is in need of hard-copy of the same.
7. Pensioner can provide the ID of this Digital Pension Life Certificate to the bank and other pension related agencies in lieu of production of paper form Pension Life Certificate.
The proposed digital certification will do away with the requirement of a pensioner having to submit a physical Life Certificate in November each year, in order to ensure continuity of pension being credited into his account.
Especially, if the pensioner is not living in the place where his / her pension payment bank is situated, the present pension regulations insist that the pensioner has to travel all the way to the bank to physically present himself for providing pension life certificate.
Jeevan Pramaan is an innovative idea to get rid of this ordeal of providing Paper form Life Certificate on yearly basis to bank by Pensioners.
The official press release of Department of Electronics says that it is a move that could eventually benefit more than one crore pensioners.
Though, this innovative project may take some time to go in to full-fledged operation, once all the aspects of this facility is in place, we hope pensioners will be really benefited.
Check the following links for previous articles on Pension Life Certificate: