Articles you may Like
Govt Comes to the Rescue of Farmers! – The money came from the Centre, which in April revised the amount farmers get as relief for crop damage.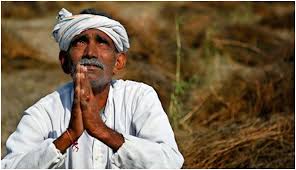 Two weeks before 2015 ended, 50-year-old Sukhrani received a new year's gift from the Uttar Pradesh government. The local revenue officer visited her village in Banda district of Uttar Pradesh to hand out cheques to families whose winter crop was damaged due to unseasonal rains between February and April of 2015. Sukhrani received one too, for the little over half an acre of land registered in her name. The cheque was for a princely sum of Rs.23.
The money came from the Centre, which in April revised the amount farmers get as relief for crop damage. It was raised by 50% which the Prime Minister termed a landmark decision. This means Sukhrani would have received Rs.1,000 or so, normally. And Rs.16, after 8 months.
The farmers also said that the amount that would be spent to encash the cheques would be more than the compensation that was given to them.
In the absence of any institutional support, farmers like Sukhrani continue to suffer. While coverage under existing crop insurance schemes is less than 10% of all farm holdings, less than half of India's farmlands have access to irrigation. Repeated weather woes, therefore, have proven disastrous.
In Maharashtra alone, 2,234 farmers committed suicide between January and September (2015), revealed a Right to Information response from the state revenue department. According to Rythu Swarajya Vedika, an umbrella organization of non-governmental organisations in Telangana that collects data on farm suicides, 1,866 farmers killed themselves from June 2014 till date. Karnataka reported 516 farm suicides in 2015 (till mid-October).
In the chronically drought-hit Bundelkhand region, home to Sukhrani, hundreds of farmers have committed suicide in the past year. There isn't a number yet. Those who are yet to take the extreme step are surviving on a meagre diet in conditions that resembles more a famine than a drought, found a recent survey by Swaraj Abhiyan, a political movement on farmers' issues.
We buy grains mixed with chaff and add wild leaves to the dough to make up for lack of wheat, Rameswar said, adding it's only one meal a day that they can afford.
Source: Live Mint