Articles you may Like
Central Govt Staffers Pushing Med Leave Applications to Escape Poll Duty – There are 20,555 central govt officials who have been marked on polling duty in Chennai.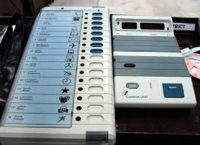 scorching heat and angry cadre are not a combination that an average government employee would relish in this sizzling summer. Sulking at the prospect of having to be on election duty ahead of the May 16 Assembly polls, government employees are queuing up before senior officials pleading to exempt them from it on various grounds, including health.
With these requests piling up after each passing day – as many as 143 have applied on health grounds – senior officials here in Chennai have finally resorted to holding medical tests for these applicants, and found most of them were not true. "We conducted medical examinations for all 143 people, of whom only 37 polling personnel were certified as medically unfit by the medical team. So rest of them have to report for duty as instructed," a higher official from Greater Chennai Corporation told Express.
In one such case, a 55-year-old woman employee of the Southern Railway approached the officials at Ripon Buildings seeking exemption. "I can't do the work because I have a skin problem. If I stay out in the sun for long hours, I will get skin allergy," the woman argued her case, which, however, was turned down.
"We have been getting at least five such requests every day from central govt staffs involved in election duty. But the higher officials have made it clear, If they cannot do election duty, they may as well quit from government service," said an official.
The reasons cited for seeking exemption include personal inconvenience and difficulties in travelling to the spot where they are deployed. "But everybody will have some inconvenience or the other. If they seek exemption on medical grounds, let the medical team decide whether they are fit or not," added a senior official.
Many managed to avoid this by requesting to be exempted in the initial stages of selection itself. But these personnel who are applying now have already completed the first session of training programme. It now is too late to escape from this duty, sources added.
There, however, is another side to it. Though most of them have cited health grounds, the reality is different and obvious: it is a risky job, especially for women. "Years ago, when I was posted as the first polling officer at a booth in one of the constituencies in north Chennai, I caught a woman casting her vote thrice after somehow managing to erase the indelible ink on her finger. But when I tried to stop her, she threatened me with dire consequences," recalled an experienced government employee at the State Secretariat.
The polling personnel are worried about violence in booths on the day of the polling, the official added.
"Polling duty is also strenuous, as we have to go to the booth the previous night to check the arrangements and also stay late on the day of the poll till the voting machines and other materials are handed over to the concerned authorities," she added.
There are 20,555 central govt officials who have been marked on polling duty in Chennai.
Source: New IE