Articles you may Like
Believe it or Not – Mallya had no House & just Rs.9500 in hand in 2010 – Despite this rather "modest" fortune, Mallya was declared the second-richest member in the Rajya Sabha.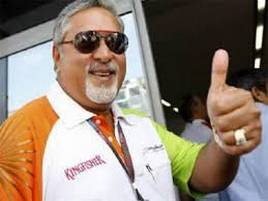 "Wilful defaulter" and liquor baron Vijay Mallya declared assets worth Rs 615 crore, including a Ferrari car, jewellery, bonds and debentures, according to the affidavit submitted to the Election Commission in June 2010 when he joined the Rajya Sabha. Surprisingly, Mallya laid claim only to a measly Rs 9,500 in cash and no property either as land or home. He also had no liabilities as per the affidavit.
The liquor baron, who ranked as 84th in the Forbes list for 100 richest Indians in 2013, claimed to own a 1989 model Ferrari worth Rs 25 lakh. He and his family own jewellery in rubies, pearls, emeralds, gold and diamonds worth Rs 4 crore and an LIC and other insurance policies worth Rs 13.50 lakh. He also declared assets worth Rs 14 crore in Kamsco Industries, United Spirits and United racing and Bloodstock Breeders Ltd.
Despite this rather "modest" fortune, Mallya was declared the second-richest member in the Rajya Sabha when he joined in 2010. In 2011, Association for Democratic Reforms pointed out that he was among the parliamentarians who had declared the highest remuneration-cumulative of directorship, regular remunerated activity and professional engagement. Mallya with remuneration worth Rs 41.4 crore was second only to Congress spokesperson Abhishek Manu Singhvi who received Rs 50 crore per annum, followed by Arun Jaitley (Rs 10 crore), Ram Jethmalani (Rs 8.41 crore) and Naresh Gujral (Rs 4.79) crore and made it to the Top 5.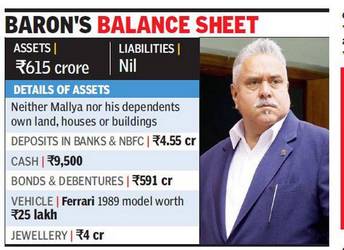 The banks who had provided loan to Vijay Mallya have suddenly waken and are behind him. The good news for banks is that there is a large chunk of free assets worth more than Rs 5,500 crore to back up the guarantees provided by Vijay Mallya and UB Holdings that will make up for the lack of security against loans of about Rs 7,000 crore to Kingfisher Airlines.
The bad news is that if Mallya does not cooperate, attaching these assets through a court order could take several years as pending taxes, provident funds and other employee dues get a priority in financial claims. Banks also cannot invoke provisions of the law which allows them to directly attach a defaulter's property as it is not pledged to them.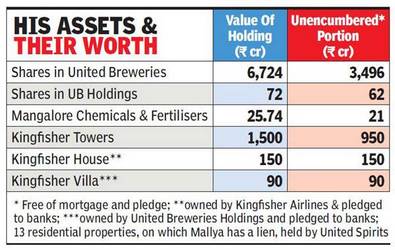 despite all these, the undittered Vijay Mallya flew out of India on March 2 on a diplomatic passport issued to him in his capacity as a Member of Parliament. A CBI source said Mallya, an independent member of Rajya Sabha from Karnataka, is a frequent flyer and has been using his diplomatic passport.
Source: TOI