Army Unhappy With Festival Duty – Defence Ministry in Dilemma – Who Pays for the Expenses Incurred by the Army
Army Unhappy With Festival Duty –
"Had the army chief stood firm on an issue of propriety, the government would have had no choice but to take heed," says one serving officer.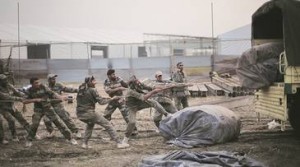 After having engaged the Army in deployment of pontoons for World Culture Festival on request of the Delhi government, the Defence Ministry is now dealing with the question of 'who pays for the expenses incurred by the Army' in cases where assistance is extended to non-government entities such as Art of Living Foundation.
"Existing guidelines enable state governments to requisition the Army for aid to civil authorities. A request was received from the Delhi government and the Ministry asked the Army to extend help," said a defence ministry official.
As per guidelines, under Aid to Civil Authorities, the Army can be requisitioned for five heads —assistance for maintenance of law and order, maintenance of essential services, assistance in natural calamities, development of projects and other type of assistance. The official said in present case, the request was processed under the "other type of assistance" head.
However, Serving and retired army personnel and other concerned citizens have protested at the use of army engineers and combat equipment in building two pontoon bridges over the Yamuna river for a three-day World Culture Festival (WCF) being organised from March 11-13 on the river's floodplain in Delhi.
Separately, the National Green Tribunal (NGT) has expressed concern over the impact of hundreds of thousands of visitors and large structures on the fragile Yamuna bed and the flora and fauna that inhabit it.
Defence Minister Manohar Parrikar admitted on Tuesday that he ordered the army to use combat manpower and equipment to construct the pontoon bridges to deal with security threats to the festival.
However, he did not explain how pontoon bridges would help in dealing with security threats to the WCF. Infact the army has not been given any role in dealing with security or terrorist threats.  Parrikar also cited the precedence of the Kumbh Mela, where army engineers build pontoon bridges to allow the millions of visiting pilgrims to move from one side of the river to the other. Suggesting the pontoon bridges would avert the possibility of stampedes, he declared: "It was done with the sole purpose of avoiding accidents."
Senior army generals tod that they are deeply uncomfortable with deploying soldiers and equipment for a function organised by a private, commercial organisation, but they had no choice. "We were not asked or consulted. The raksha mantri ordered us to build those bridges," says a general in army headquarters.
In a heated debate raging within military circles on social media like WhatsApp, many army officers believe the army chief should have taken a stronger stand against using army resources to help what one officer calls "a government-friendly god-man."
"Had the army chief stood firm on an issue of propriety, the government would have had no choice but to take heed," says one serving officer.
Perhaps the strongest argument against using army assistance in such functions relates to precedent. Says a serving lieutenant general: "Today we have come out to support the Sri Sri Foundation. Tomorrow, it could be Baba Ramdev; after that, the Jamaat-e-Islami; the next day the Dera Sacha Sauda or the Nirankari establishment. Where do we draw the line?"
Source: Indian Express