Articles you may Like
After Horse Beating it is Horse Trading in Uttarakhand – Speaker Govind Singh Kunjwal had rejected the demand for the division of votes triggering chaos in the assembly.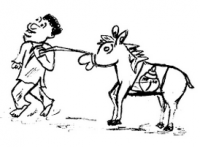 The Harish Rawat government in Uttarakhand came under threat on Friday with nine rebel Congress legislators joining the opposition BJP in the state assembly to demand a division of votes on the finance bill. BJP leaders met Governor KK Paul and staked its claim to form the government, party sources told NDTV.
Speaker Govind Singh Kunjwal had rejected the demand for the division of votes triggering chaos in the assembly with both opposition BJP and rebel Congress lawmakers protesting with a sit-in inside the well of the house.  Mr Kunjwal announced passage of the budget by voice vote and adjourned the house till March 28
Amid noisy protests by BJP lawmakers for a division of votes not being allowed by the Speaker on the finance bill, Ministers Harak Singh Rawat and Mantri Prasad Nithani came to blows, ANI reported. The agitating BJP legislators went to the Governor's house to meet him. The nine rebel Congress lawmakers also joined them.
The legislators were flown to Delhi last night in a chartered flight from Dehradun, minutes after they called on the Governor asking for the dismissal of the Harish Rawat-led Congress government. They are expected to meet BJP party president Amit Shah today. Some of the rebel MLAs have said they also want to call on President Pranab Mukherjee.
The opposition party had earlier accused CM Rawat of conspiring to keep BJP lawmaker Ganesh Joshi out of the assembly due to the Budget vote. The legislator, accused of instigating a brutal attack on police horse Shaktiman during the BJP protest on Monday, was arrested on Friday and could not attend the assembly.
Mr Rawat has a razor thin majority in the 70-member house. The Congress has 36 members, one more than the half it needs and so has zero breathing space and counts also on the independents supporting it for stability.
The BJP has 28 MLAs. Congress legislators loyal to leaders like former chief minister Vijay Bahuguna and Harak Singh, meanwhile, grabbed the opportunity to flex muscle, reminding the chief minister he could not count on unstinting support from each of his 36 MLAs. Mr Rawat had replaced Mr Bahuguna as Chief Minister two years ago, causing much heartburn.
Source : non edited, from : NDTV