10 Lakh Bank Employees To Go On One Day Strike – The strike call stands, said a top leader of All India Bank Employees' Association (AIBEA).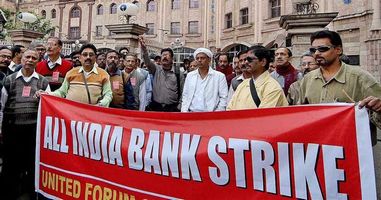 With conciliation meeting between the United Forum of Bank Unions (UFBU) that has given a strike call on July 29, the Indian Banks Association (IBA) and the central government failing on Tuesday, the strike call stands, said a top leader of All India Bank Employees' Association (AIBEA).
In a statement issued in Chennai, AIBEA General Secretary C.H.Venkatachalam said while the union representatives put forth their views on the various issuses nothing came out from the side of IBA or government representatives.
He said the IBA or the government representatives did not assure or indicate that the government policies would be reviewed and reversed, rather, only sought to justify them.
The conciliation meeting was called by the Chief Labour Commissioner (Central), in the Labour Ministry in New Delhi.
Representatives of all nine constituent units of UFBU viz. AIBEA, AIBOC, NCBE, AIBOA, BEFI, INBEF, INBOC, NOBW, NOBO, were present in the meeting, said Venkatachalam.
The Unions have been against the proposed merger of the State Bank associate banks with SBI, privatisation of IDBI and other banking reforms that the government has initiated. While they are demanding recovery of NPAs from defaulters, declaring wilful defaulters as criminals, said Janak Raval General Secretary of Maha Gujarat Bank Employees' Association.
"Total about 10 lakh employees and officers of public sector banks including 70,000 from Gujarat will observe strike across India" he added.
Alleging that the government intended to privatise the banking industry and "allow it to the control of corporate houses and big business", the Bank Employees' Federation of India general secretary (AP and Telangana) P.Venkataramaiah sought support of the public for the strike.
"In the name of consolidation, government is proposing to merge the PSBs and create 5 or 6 large size banks", he said. Privatisation, he said, would deprive the poor and common man of the banking and necessary loan facilities.
"Accordingly, 10 lacs of employees and officers of public sector banks, old generation private banks and foreign banks in more than 80,000 branches all over the country will observe the strike on 29th July, 2016 to express our opposition and protest against these unwarranted banking reform measures," he said.
Source: from around the web