Articles you may Like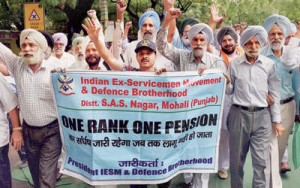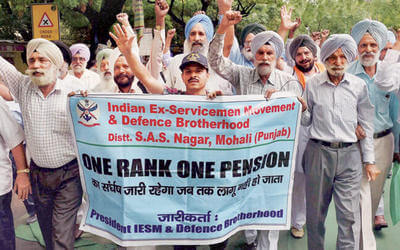 We learn from reliable sources that atlast the war Veterans may have something to cheer about, as the Government plans to announce the implementation of One Rank One Pension in the next 48 hours. However the war Veterans are reluctant, as they feel they have not received any information 'officially' regarding this, and they have not signed any proposals till now, and this is a unilateral decision by the Government.
Reliable sources points out that the government is willing to accept the veterans demand that OROP will be effective from July 1, 2014 including arrears. The Government's proposal is ready with a lay out of Rs. 8,000 – 10,000 crore a year for the Veterans. The Government has plans to pay the same in four instalments. The Government is going to make the payments first to the Veterans and Widows who are above the age of 70. However the Government has decided not to pay to those soldiers who opted for premature retirement. If the proposal meterilise, the lowest-ranked retired jawans will get a pension hike of at least Rs.3,500 to Rs.4,500 a month.
Sources points out, the government proposes to take the average of the maximum and minimum pension paid per rank for calculation, Since there are many cases of veterans of the same rank earning different pensions. However the Government made it clear that those who earn above average pensions in their rank will also be protected, and they need not worry.
There is a huge discrepancy in the present pension scheme. OROP will give the same pension to EX-SM who retired many years ago as that which soldiers of the same rank retiring now draw. It is expected that atleast three million veterans will be benefited by the proposed draft scheme.
Sources also points out, some section of the Veterans are ready to accept this draft proposal where as the majority of them are against it. It is to be noted here that the OROP demand was made 20 years back and some hope is visible only after the Prime Minister's Office stepped in last month. Mr.Narendra Modi too during the election campaign has promised of OROP. hence the demand for its fulfillment was heavy on him since the veterans and also political rivals have repeatedly reminded him of that promise.
However, the difference between the Government and the Veterans views regarding the period of revision remains the same. The Government still sticks to their stand that the pension would be revised every five years, and the Veterans, still hold their Gun demanding a revision every year or atleast every two years. The Veterans who are now on strike for the past 82 days in Jantar Mantar are not buying this proposal of the Government, as they point out, it is a 'unilateral' decision and they are now planning to hold a mega rally in Delhi on September 12th.
source: NDTV