All India Bank Strike on 12th and 13th July deferred
All India Bank Strike on 12th and 13th July deferred – AIBEA / AIBOA Decision in view of Delhi High Court order to restrain Strike
In view of Delhi High Court Restraint Order, all Bank Unions have decided to defer the two day Bank Strike scheduled on 12th and 13th July 2016.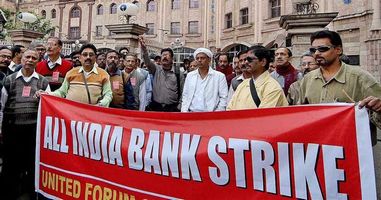 The bank employees' strike planned for July 12 and 13 was called off late on Monday, after the Delhi High Court earlier in the day accepted the plea of the State Bank of India (SBI) to restrain the strike by its associate banks.
SBI had asked for a restraining order as bank operations are likely to get affected at its associate banks. The Delhi HC accepted the SBI's plea and restrained bank unions – State Sector Bank Employees Association (SSBEA) and All India Bank Employees' Association (AIBEA) from going ahead with the strike, according to agency reports.
"We have called off the strike. We will however be observing July 19, bank nationalisation day," said AIBEA national vice-president Vishwas Utagi
Source: AIBEA and Times of India